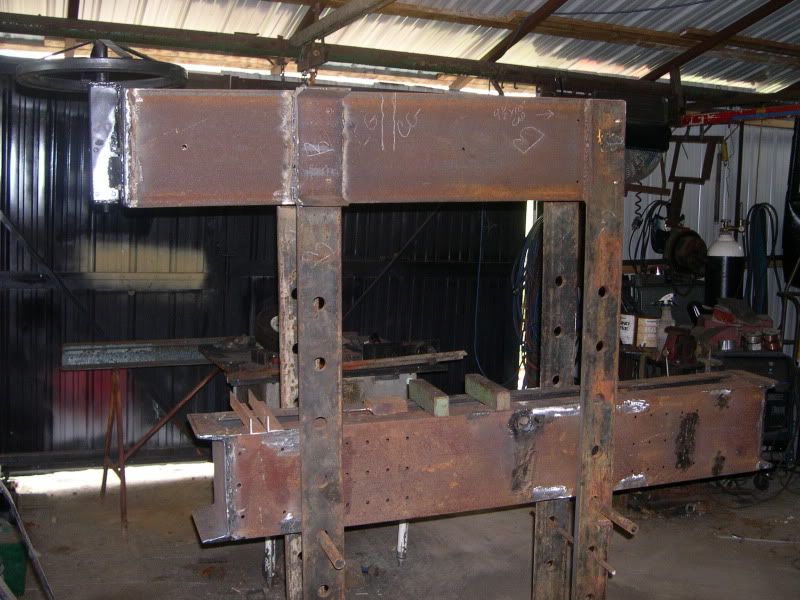 I started this about 2003?? HSM magazine plans for a 50 ton press. Upped the Channel to 10" and upped the flatbar to 3/4". I drilled the flatbar on the cnc back then, CUT a hand while scooping up swarf (had on gloves).. so.. I put $350 in steel and $150 in stitches..
MODDED IT recently.. saw one on MM I really liked.. it was a C-press with open end, hydraulic traveler can slide from one end all the way through to other open end. I also mounted the small C-frame acme screw slider on it.. can mount the gocart slick to CURVE metal or the ewheel rollers to shape metal. Yoke for bottom roller bolts onto sides of lower press beam. I flipped the channel LIP inward, saw a stainless one I really liked and was not happy with mine as was, lip outward.
I like the screw press to push in bushings and press harley flywheels out of cases. Mucho more controllable how much pressure you are applying. This project sat so long cause I purchased a 5hp h-press at auction.
WE used the steel for the lower channels.. Used one as a back bumper on my one ton dump truck for a few years, used the other one as a harley frame jig to build up frames. SO.. I had lots and lots of grinding to do to clean them back up. About 8 hours so far.. Two for me, and six for my buddy Joe (blowed up Sportster Joe)
Anyways.. I love the new config.. still building tools for it.. looks like it will replace half a dozen shop tools.. ring-tube roller frame, metal strap bender frame, gocart sheet metal roller, bearing press, and a hand-hydraulic press..
It is 16" C-press with 26" H press inside between flatbar press. Yoke is not bolted on it for the picture.. but acme slider-handwheel is.. bed slides back and forth, will be welding in cross pin locators to Secure it.. while you roll metal in the ewheel end? you apply some pressure with a jack on the H-press side.. it makes it all really stiff and does not wiggle.
I still have to burn some more holes here and there (lifting eyes and locking pins), do some more clean up. In the Arid-humid south, all metal not painted rusts. I'll be making a few more sliders, one for the semi-brake air puck for the shrinker-stretcher and one for a "fly press" screw.
I'm getting a few things done in the shop. I sure welcome a old friend who likes to tinker too. His engine parts came in today, he was as tickled as a kid.