Ok haven't been posting for a while……. But let me try and redeem myself.
I'm going to try and doo this in one post so just hangon for a sec.
Funny how one job turns into twenty.
I started with finishing my heads for two pull scrapers like the swiss scraper technic that featured awhile ago.
All started well.
Little bit of rounding the edge to make it look better note to self …I really need a 4 jaw chuck.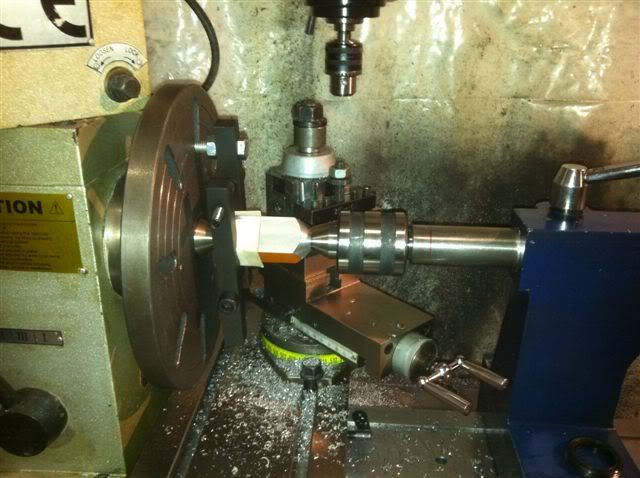 Ok now to cut a slit …. I don't have a slit saw and my wood saw blade I use for Alu makes a heck of a noise on steel so I tried a abrasive saw that did a pretty good job.
The down side is you have to cover your ways like a hazmat spil and like a learned the hard way, it create a lot of heat that gets transferred to your quill and makes it expand.
On my second head it expanded to much that the slit cut 2mm lower and a bit skew.
Then drilled and tapped the holes and what do you know snapped a tap in the last hole.
It's stupid but my inner voice said …stop it's a crap tap it's gonna snap (yes he's a poet and know it)
So now what …. Then I remembered this video (
http://www.youtube.com/watch?v=uUN4_-xp1Wc
) and figured lets try it .
So some scratching in the goodie bin and a bit of masking tape and 20 mins later I ended up with this.