Most of the mechanical work is done on this project. Here's a few pics of it as it is now.
[IMG]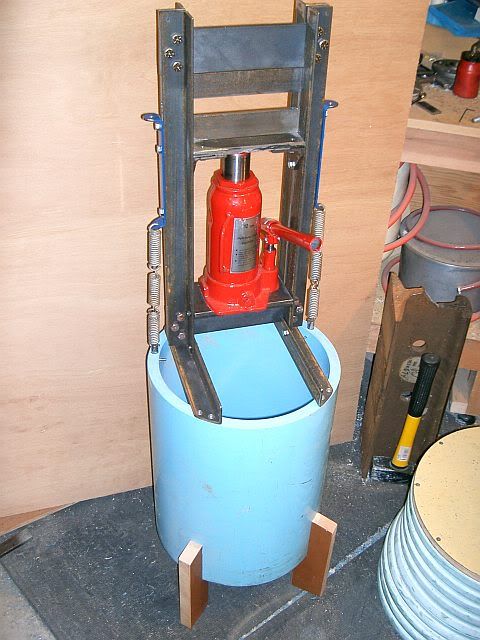 [/IMG]
A close up of one side showing the guide which keeps the bottom die plate perpendicular to the uprights
[IMG]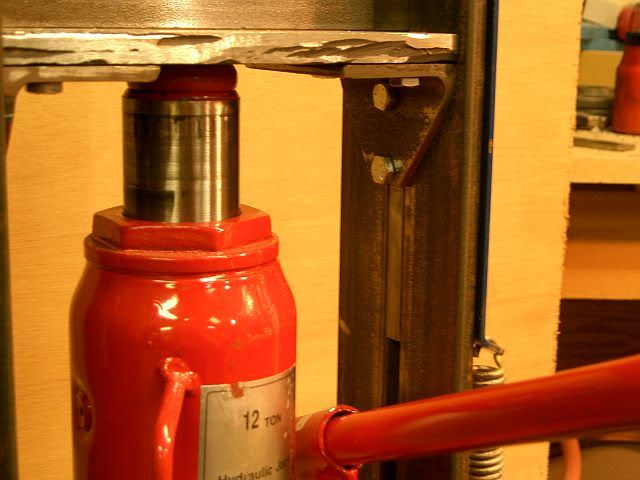 [/IMG]
A close up of one of the spring retainers. I have a range of about 2 inches by pulling the pin and repositioning the retainer on each side. When the bottom die is higher up for bending flat bar, these will be set higher. When the upper and lower bending dies are removed, there's about 5 inches of space that I can use for different pressing operations. These retainers will then be set lower. I don't want to stretch the springs, nor add too much to the pressure required from the jack when bending, although that would be so minimal by comparison as to be inconsequential.
[IMG]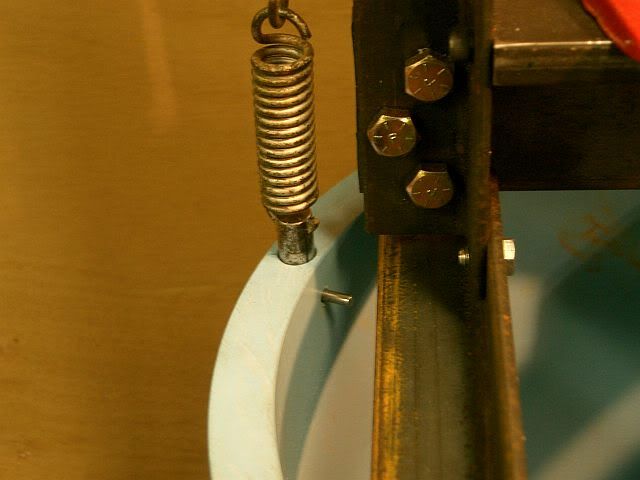 [/IMG]
A close up of the upper die. I have a 60 degree V on it at present, and I stopped the milling with about a sixteenth of flat left on the bottom edge. I subsequently rounded that over by drawfiling, then sanding a little. I'm not sure if that is 'sharp' enough, but that's my starting point. I could have kept the angle down to about 50 degrees, which would have left a bit more strength at the edge, but again, we'll see how this works.
[IMG]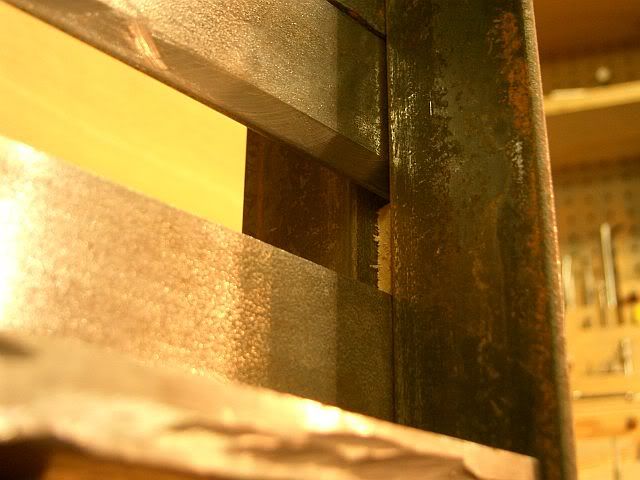 [/IMG]
The upper die can be slid out easily, so I can alter or repair it without much fuss. The bottom die- well, I don't have it made yet. Considering the time I've spent on this already, it won't stretch much for me to build a parallel round bar type of bottom die. There will be four carrier blocks on either side of the upright that sits on the bottom plate. These blocks will bolt through the upright (that's the 1 1/2 x 3/8 bar going horizontally above the plate) and each will have a saddle for the round bar to nest into. I'll be able to space them away from the upright by using washers, so I can adjust the spacing of the bars to suit. Without washer spacers at all, the bars will probably come close to touching, which will give a very sharp bend if the material is not too thick.
The one question that remains is what diameter the parallel bars should be. The smaller the bars, the tighter the bend can be, but I'm looking for what's practical. I'm thinking 1 inch diameter bars. Too small and they will flex between the blocks that carry them.
Because I want to also eventually use the mark-free bending method with half-round bars, I want to get the right diameter for the bars now, so I only have to machine the blocks once.
Anybody that doesn't like my pvc tube base can come over and paint it for me ha ha. I figure that one day I'll put something useful inside that tube. I could also sandwich a piece of thin plywood or something between the bender and the tube to make it look a little more finished, but I'm not worried about it. Besides, the rails being mounted the way they are across the base tube- there's got to be an additional use for them - maybe I can add a small diameter rod rolling mechanism there- hmm