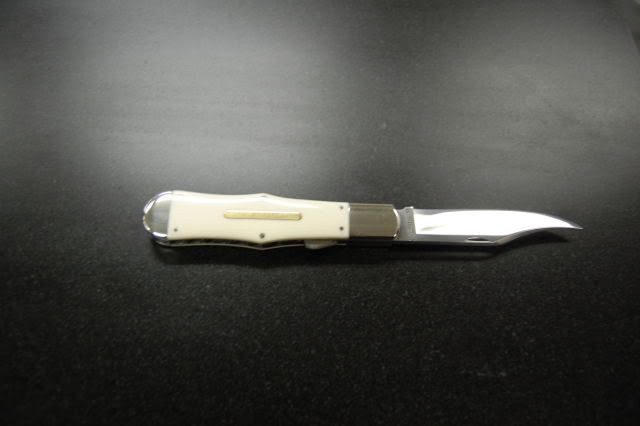 This is a folding knife I made for Jon,my journeyman when he retired from the shop. It is really a folding hunting knife as the blade is 3/16" thick. Quite heavy.
Jon preferred W1 steel. I have some new old stock Brown & Sharpe W1 stock that must be from the 40's. The wrappers are very old,dirty,and falling off. I love it! I bought out the remaining stock from a company in New York that had been in business since 1908(or so). I prize old metal made during our best manufacturing days.
The blade is 4" long,fully polished. The handles are quarter sawn legal,certified ivory(must be pre 1972).The name plate is 22 K. gold. Bolsters are German silver.
This was hardened,and while just hot enough to hold,was put into a preheated tempering oven. This is what you need to do to get the most out of your steel. Let it cool to about 130؛. Don't let it get cold before tempering. Don't do it the next day. This is how I temper all my tool steel. It makes a big difference,especially in the life of dies and punches.
It was brine quenched. To make a brine quench,I use distilled water(you don't know what minerals are in tap water).Dissolve ice cream salt in it until a potato will float in it.
Brine is the best water quench. It stops the gas envelope from forming around hot steel that is plunged into it. This gas keeps the steel from hardening as evenly,so I do not use a plain water quench.
W1 is a treacherous steel to quench,due to the rapid shock of the water based quench. Therefore,I stomped the axle hole in the blade tightly with FINE steel wool,using a flat nose punch. This keeps the hole from cracking,which is a very common problem. They used to pack holes with clay,but that keeps the steel inside the hole in large work from hardening. With steel wool,the hole will be hardened,but prevented from cracking.
Japanese swords are given their curve in the quench. That's how bad the metal can react. It is wanted in that instance.
Even a number or letter stamp can cause a crack in W1. I don't stamp it real deeply.
I drew it to about 57 R.C.. W1 will get sharper than any other tool steel,which is what makes it desirable to Jon. It won't stay sharp as long as more sophisticated steels,but it will get sharper. I believe the fighting knives made for the soldiers by Kabar were W1 in WWII.
The blade locks. Press down the finely checkered thumb piece to unlock it.
I still can't post multiple pictures,so the next picture will show the fancy file work along the back.