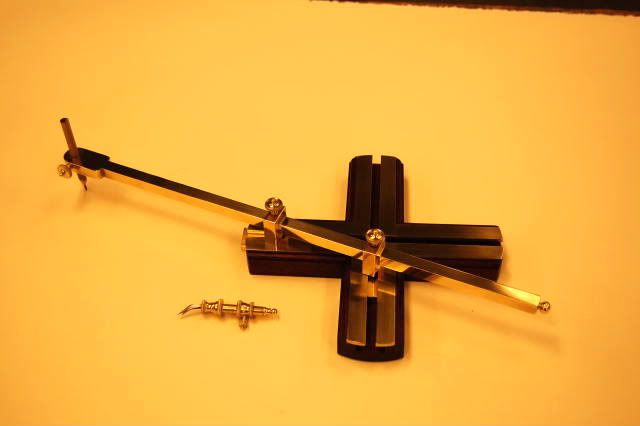 This was a special tool we made for the Anthony Hay cabinet shop in Williamsburg. They were reproducing an old toolchest with large oval inlays. They also wanted this tool to use as a demonstration for an upcoming woodworking forum in Williamsburg a few years ago.
It was also seen in a presentation of "The Woodwright's Shop" on T.V.. Marc Hansen and Ed Wright,two of my journeymen were demonstrating how they were doing the inlay work inside the toolchest.
I also made a sharp swivel knife that can be used in place of the pencil for cutting out paper patterns.
I made the knurls that were used on the various knobs. They were made by running concave knurl blanks against a rotating tap in a lathe. Just normal taps for cutting threads.
The base is mahogany. The length of the mahogany bars is about 6".
By adjusting the knobs where the 1/4" square brass rod goes through their blocks,ellipses of different shapes and sizes can be generated.