Well we had a really great thread the other day about "Fear of Finishing" and I thought it was about time I started.
you ever have 1 of those little Happy Fart Drill presses that you just can't seem to fit any thing in. Will I sure do and needed to put a little 4" piece in a vise and of course it won't fit under the 3/8 drill bit. Geez does that suck - so I thought it was time I did some thing about it.
So first I had to make a taller post for my little Happy Fart Drill press. I used a piece of 1 1/2" sched 40 pipe and it didn't give me too much extra to cut, but some how I squeezed it out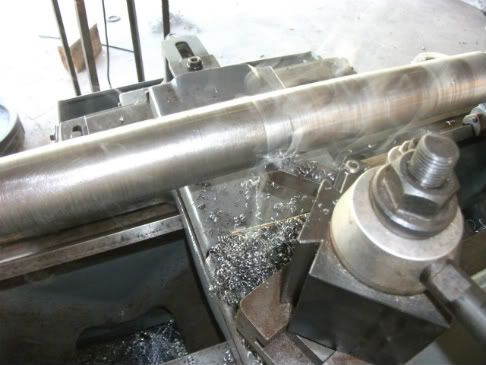 and of course I'm the first kid on my block to have a "Happy Fart Drillzilla"
Then of course I had to move on to finishing the piece I was working on. So I turned my attention towards my little vibratory finisher. I had burned up the motor but more over it needed a complete going over
I know it hasn't been greased since the day it was created and possibly not even then so I started off with a grease gun loaded with a good Molly blend grease when I found these - the coupling straps were toast and badly in need of replacement. Pictured below is the 1 good strap that wasn't broken free