These parts were originally die case. I don't have a die cast machine so I will have to make them on my Bridgeport Mill unless I can find another way. I was thinking maybe a horizonal mill with 45 cutters for the full length of the part but 45 cutters is probably too many cutters. Maybe 5 cutters to cut each section with 5 slots there are 540 sections. If I do this 1 slot at a time that would be 2700 slots with the Bridgeport Mill that would require several months work. This part is 17" long by .750" by 1.500" with 45 slots per side. I worked in Die Casting for 20 years I use to make prototype dies some were poured by hand. I could build a 1 cavity prototype mold pre heated and hand pour but that will be a lot of work if I can not get it to fill. If I do get it to fill I would be lucky if I could hand pour it once an hour. CNC would be great but I don't have one.
I have done 2 years of research and I already built a small one that works great. This part has 4 slots per side. 32 slots for the whole valve system.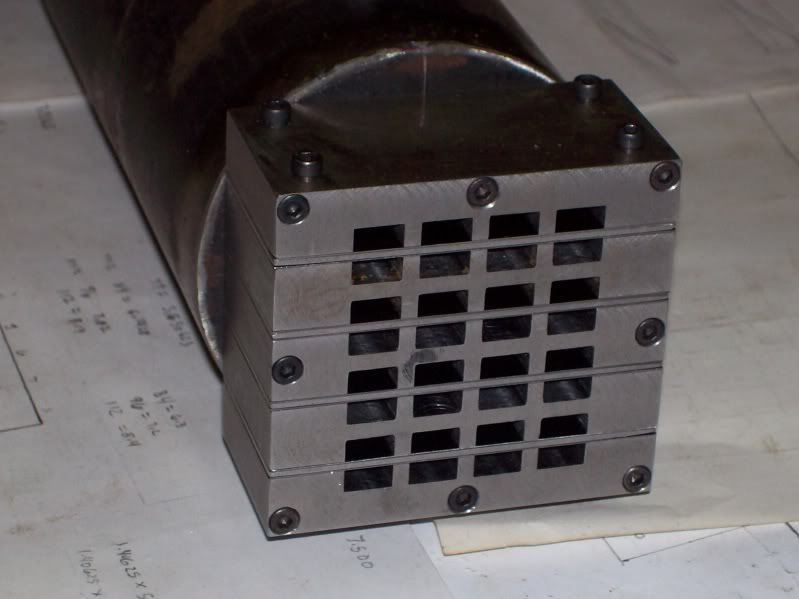 This is the finished product. A 20 lbs thrust pulse jet engine using German V1 Argus valves. 2 years of research and I have learned how to design and build an engine that will run for many many hours and the valves show no signs of damage or getting hot. The German V1 engine only had to run for 25 minutes. My full size German V1 engine should last for years with no signs of damage. I have a larger 60 lb thrust engine that starts easy, runs fine and it is 80% throttable. My next engine may be 250 lbs of thrust, then after that 850 lbs of thrust German V1 pulse jet engine.
Here is the video of my 20 lb thrust engine.
http://www.youtube.com/watch?v=pwz7AvufWG4
I figure it will take me a while to build this engine if I do most of the work myself. I am trying to find an easy way to cut the air intalk valve sections.