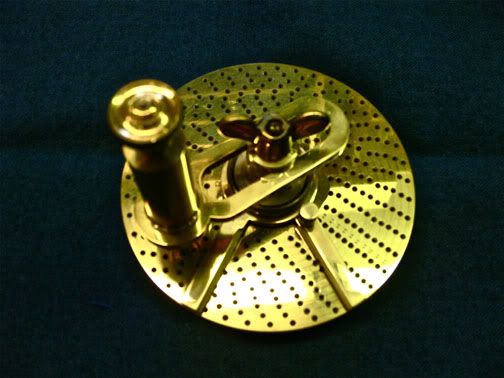 I made this dividing attachment for my 6" rotary table. The holes were indexed solely with dividers,and the holes were drilled with an 18th.C. style pump drill. It is possible to drill extremely accurately positioned holes with a simple pump drill. You start the flat spade bits from zero RPM with the bit in the center punch mark. After drilling these holes with the pump drill,I re drilled them with a small lathe center drill in the drill press to bevel the edges of the holes.
By pump drill,I do not mean the "Yankee" type pump drills that use a spiral mechanism. I mean a simple vertical steel shaft. There is a small brass flywheel near the bottom. A cross handle made of wood with a loose fitting hole is fitted horizontally to the vertical steel shaft. A leather thong is fastened to the ends of this handle,and to the top of the steel shaft. To start,you wind the leather thong around the shaft,and push the wooden handle up and down for forward and backward rotation. I made the pump drill and bits also.
The plate on this attachment is about 5" in diameter,made from 1/4" 260 brass plate. The whole attachment is 260 also.
After a few circles,it got easy to give a slight twist to the divider's wheel,and within 2 or 3 adjustments,I'd have the required number of holes coming out evenly.
The knurling was done with a knurl I made also.