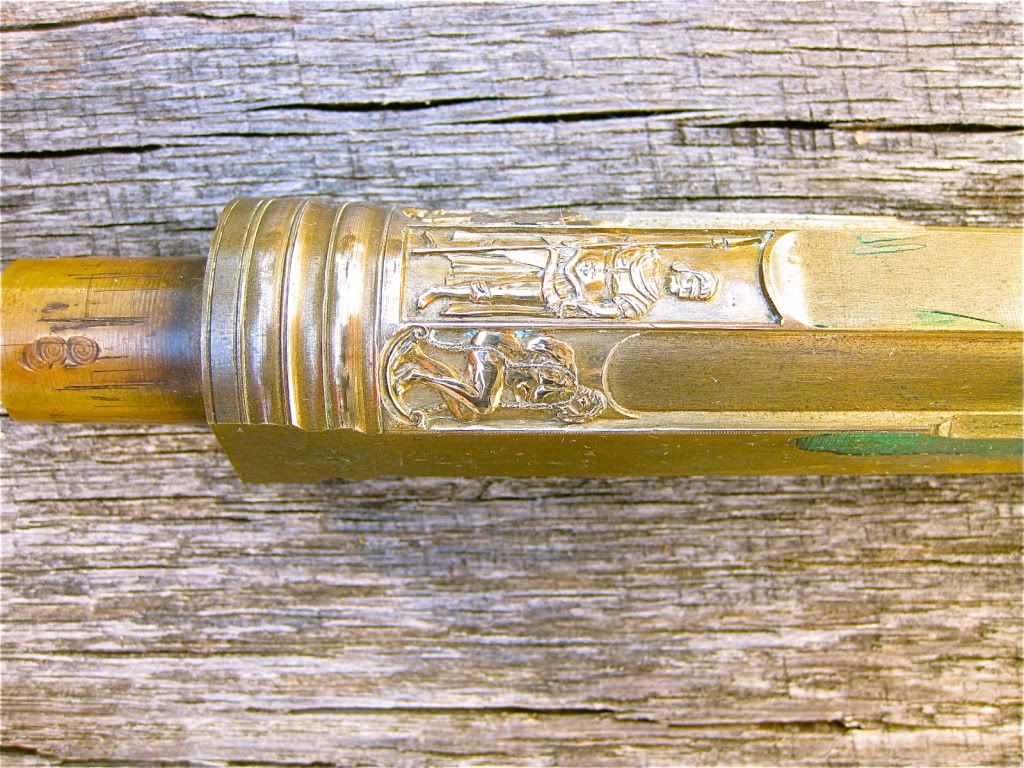 Some have asked what I did with the rifflers. This is a chiseled relief pistol barrel I never finished because I decided that wrought iron was really the correct material to use. Once I got hold of some of the real metal,I switched over. This was practice,then. They never made horse pistols from brass. Only Naval weapons were brass usually,though George Washington had a pair of brass barreled pistols(one with a burst barrel) that can be seen at Mount Vernon.
High relief chiseling reached its zenith in about 1680. The long barrel enabled early black powder to burn more thoroughly. And,in battle,these made good clubs. No time to reload!!
A horse pistol is not for shooting horses. They were long pistols carried in pairs in holsters on the front area of saddles. Sometimes the holsters were velvet,or other fancy materials.
Only the very rich could commission pistols with decoration such as this. It took about a month to do one figure,and there are 3. In addition,there would have been acanthus leaves chiseled into the ogee of the moldings at the breech of the gun. Further engraving would have been done in the spaces above the 2 side figures,and a coat of arms above the central figure.
These represent a Rome (the soldier),having conquered Europe,which looks back defiantly from his chains. On the other side is Africa,kneeling down.Africa is unfinished because I switched to wrought iron.
To make these figures,I chiseled them with miniature hammer driven engraving chisels,also known today as die sinker's chisels.Then,the rifflers would have been used to smooth out the surfaces and the background.Finally,little boxwood sticks with polishing compound were used to polish the surfaces.
Traces of Dykem blue can be seen here and there,from laying out the work.
The barrel is about 14" long and 60 cal. smooth bore. I made a "D" bit to bore the barrel,using a 10" Jet lathe. It came out only .002" off center at the other end. Then,I reamed the barrel with a straight,square reamer made from a square file,and backed with a rounded strip of wood. Paper slips placed between the wood and the reamer allowed progressively fine cuts to be made. I did that at the Williamsburg gunsmith shop,using their 18th.C. style,hand cranked machine.
In the 17th.C.,the period of this particular style of pistol,actually about 75 different specialists would have been involved in making a gun like this. Trades were very tightly regulated so that each piece was made by a specialist. Breech plugs were only forged by a breech plug forger,etc.. There was even a "screwer together" who assembled locks.
There is no breech plug on this barrel. The plug seen was just to support it in the lathe when I was taper turning the barrel earlier in its making.
On the actual gun,you can see the links in the prisoner's chains.