Here's the next tidbit that needs attention.
I received my new splined sleeve from LeBlond. When I removed the original power handle and sleeve, it required tapping out a tapered pin that ran through the handle and along the outer edge of the sleeve.
Here's the old sleeve and you can see the tapered "half-hole":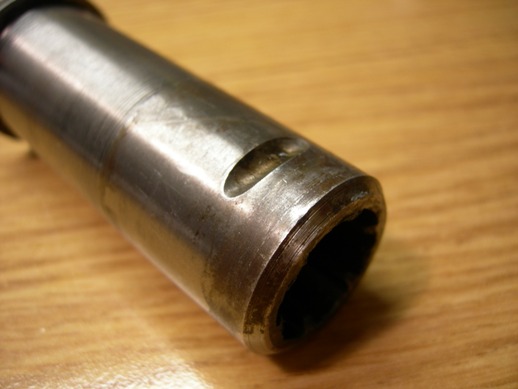 Problem is the new sleeve does not have this half-hole there for the tapered pin. I called LeBlond about this and the reason is that they put the sleeve in the handle and then drill and taper-ream through both parts at once.
Now I guess I have to recreate the tapered half-hole in the new sleeve so that the handle holes and tapered pin will all be aligned correctly.
Looking for additional input on the best way to recreate the tapered half-hole in the new sleeve. I'm thinking I'll make a steel cinch collar that will go on the new sleeve, then drill/ream a tapered hole through the collar and sleeve. Remove the cinch collar and should be left with the proper half-hole in the new sleeve. I'll leave it a little undersized so I can put the new sleeve together with the handle and then finish ream in place for the tapered pin.
I orderd the tapered reamer this morning.
Problem is that I'm not sure if the center of the tapered hole is tangential to the outer circumference of the sleeve....... If they (at the factory assembly) were drilling/reaming/pinning parts in place, they possibly did it while it was on the machine and assembled. That probably means a hand drill. I doubt they had that much exactness if that was the case.