Quite a while back, I got a new old stock replacement spindle for my
B-port M-head which is mounted to my small Clausing knee mill.
I decided it was time to change it out due to the ever present
chatter caused by the worn out splines in the existing spindle
and mating splines in the pulley assembly.
A search around the forums did not produce anything specific
to the M-head, so I decided to just have at it.
After removing the drawbar, and loosening a bolt on the side of the
aluminum casting for the step pulley housing, the whole upper
assembly just lifts right off, exposing the under side of the
spindle pulley bearing assembly.
I could see that someone had been in here before me as shown by
the damage to the slots in the sides of the nut which needed to be
removed.
It appeared that a special tool is required (which I do not have) so,
I made this tool to remove the old damaged nut and to install
the new one.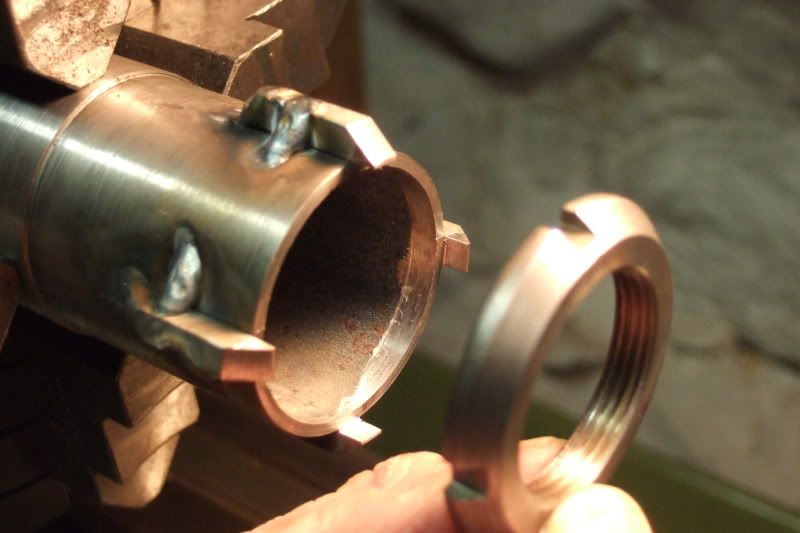 The tool is made from black iron pipe turned in the lathe to a
diameter equal to the disance across the slots in the nut.
3/16" steel keystock fit the slots nicely so I cut four lengths
at 1" and clamped them into the slots in the nut, placed the nut
on the end of the turned pipe and welded them to the pipe.
Then remounted the tool in the lathe and turned the "fingers"
at an angle to clear the tabbed washer beneath the nut.