I thought I had posted the mods here before but it may have been on one of the Metal Shaping sites. In any case, I couldn't find it. For those of you with interest, I submit the following modifications made to a Harbor Freight 40" Shear, Brake and Roll Machine.
Here's the stand. It's pretty basic but its job is more than to just support the tool. This image shows a cut-down I-beam added to help support the cutting table. Compression adjustment (support) is provided by the three bolts on top of the I-beam. There's a 3/8x2" flat welded to to top of the I-beam that's drilled and tapped to accept the bolts and provide some adjustment. The nuts (appear later) are to lock the bolts.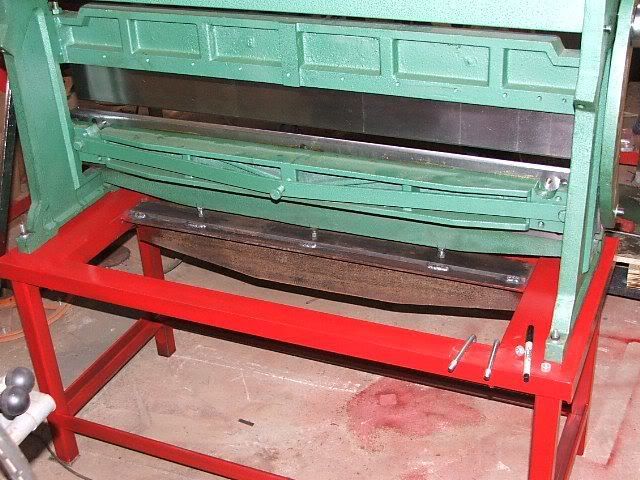 At the forward underside of the cutting table, I added four wedges. These wedges are drilled and tapped to accept adjusting bolts that help keep the table from flexing forward or away from the upper cutting edge.
This U-bolt was added later. During cutting, I noticed the machine LIFTING between the leg mounts. Not a lot but it was noticeable. To help reduce the stress on the leg mounts, I added a U-bolt in between each leg bolt. Don't over-tighten this U-bolt--Just snug enough to take-up slack.
(To be continued)