Some time ago I bought a Denford Easimill 3 for a reasonable sum. It'd hoped to start playing with it straight away, but I discovered a problem. The cap that retains the quill bearings was broken.
As with many other Denford CNC products they used an existing machine and fitted it out with CNC control gear. In their wisdom they used a clamp on the end of the quill to provide the Z-axis drive. That might have been OK, if the bearing cap hadn't been made from Aluminium. Even then it might just have worked if there were more than two complete turns of thread and it wasn't machined from a slightly porous casting!
I'm not the first person to have the problem;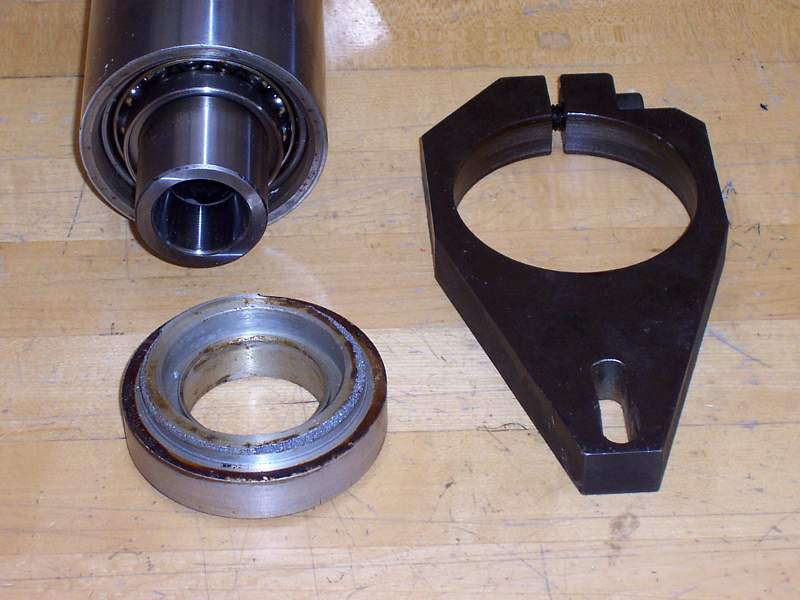 Picture taken from this posting;
http://www.denfordata.com/bb/viewtopic.php?f=50&t=835
This weekend I finally felt up to spending some time in the workshop and starting from a rather oversize chunk of steel barstock machined up a replacement.
The first task was working out the thread. Initially I though that since this was a 1984 machine of far east origin it would be a Metric thread and had initially thought it was an 'orphan' thread of 73 by 1.5mm, but a closer look and some head scratching made it more like 2.9" by 16 TPI.
I recently put a Sinpo DRO on the Harrison L5 and this was my first experience of using a lathe so equipped. So much easier! Especially as some time in the (ex school) past the lathe had been updated to metric. However, due to the cost of a replacement telescopic cross-slide leadscrew (about £750!) only the dial had been changed which caused some confusion when I first got the machine.
After a LOT of swarf production (around 70%)
and it even fits nicely with the thread done entirely by the numbers;