This is going to be one of those long running machine tool soap operas except the "soap" is various combinations of Purple power, WD40 and diesel fuel.
About six weeks ago I bought a Cincinnati horizontal. I have been meaning to post a thread about it and I finally got my pictures organized enough to do it. I might be useful for someone thinking about one of these old machines to see what kind of work is involved. I already have one mill in this class, a Kearney and Trecker 2CH, but it has some mechanical and possibly some alignment issues. I got the Cincinnati because I thought I'd be able to give it a quick cleaning, hook it up and have it running in a couple of weeks – Ha!! Jokes on me. Six weeks on, I'm still taking things apart and I'm not going in for a full reconditioning project – not even painting it - just cleaning. I had no idea how much filth would accumulate over the years.
It's a 2MH plain (non-swiveling table) built in late 1941. This model was not Cinci's top of the line, like a Dial Type. It's more of an entry level machine. It weighs about 4,000 lbs and has a 5HP motor with 15 spindle speeds from 22-1200 RPM and 12 feeds from 2-30 IPM. Spindle reverse is done electrically through a built in drum switch on the left side of the column and the feeds have an independent geared reverse. Since it's not an advanced mill for the time it doesn't have a fully enclosed knee with a circulating oil pump. The feed gearing, leadscrews and ways on the knee are lubed via a pair of one shot oilers. One is in the saddle and one is in the right side of the knee. The used oil runs out the bottom and ends up in the coolant sump.
It came out of a school shop being closed down. It has a vertical head and a standard lead gearbox with change gears used to drive a dividing head or rotab synchronized with the table. It turned out that the vertical head is something Cincinnati called universal milling attachment and can be used along with a universal DH to mill spirals on a plain mill. It is driven by the main horizontal spindle and has the all the driver pieces. I also got one arbor and two drop brackets one A and one B style. The B style is missing the bushing so I have at least one future project. Horizontal spindle is 50 taper and vertical head is 40.
Mechanically it's in pretty good shape all things (70+years old) considered, but it seems like it was never cleaned. It was amazingly filthy, to the point that it must have interfered with function. You couldn't run a T nut through any of the slots on the table, especially the one where I found an eight inch half round file buried under oily dirt. The other thing about all that dirt is that it had a nasty smell, bad enough to burn my sinuses. All that ancient oil and grease had gone rancid. I didn't know that petroleum could go rancid, but I do now. The worst was the grease in the vertical head – I haven't gotten around to cleaning it yet but I keep it bagged up to contain the funk.
Here it is before I brought it home. If you look behind the vertical head you can see a bench mounted lathe. It's a nice little 10" Sheldon that had been crashed - It looked sad so I gave it new home. I've got to stop adapting stray machine tools.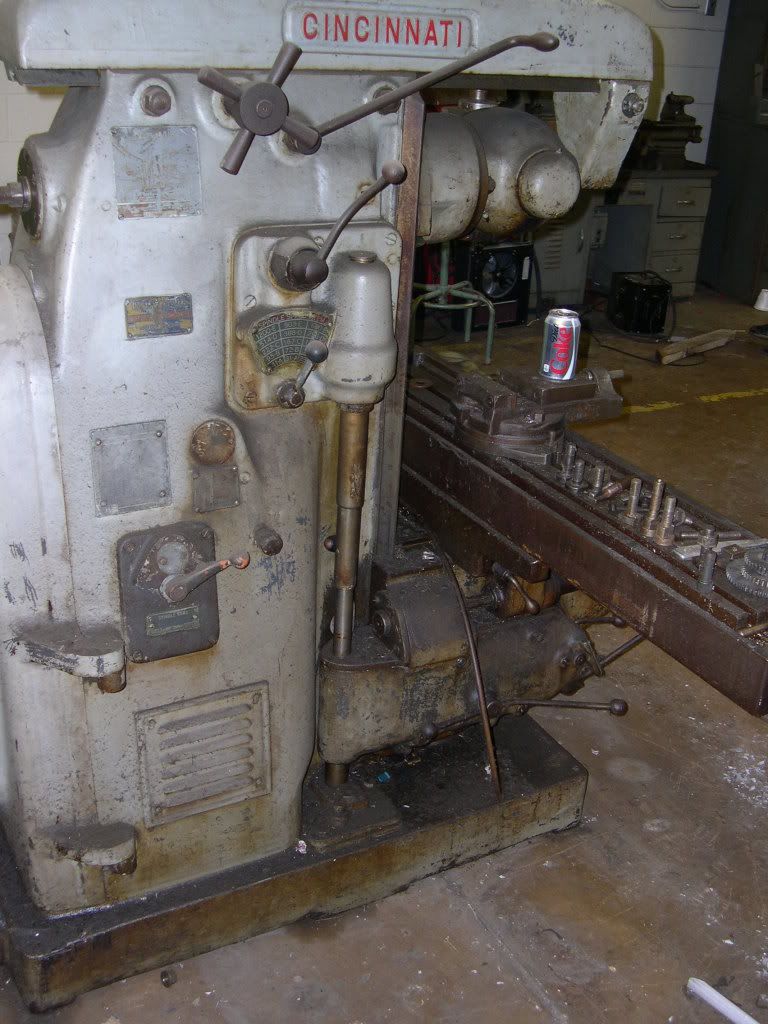 Home.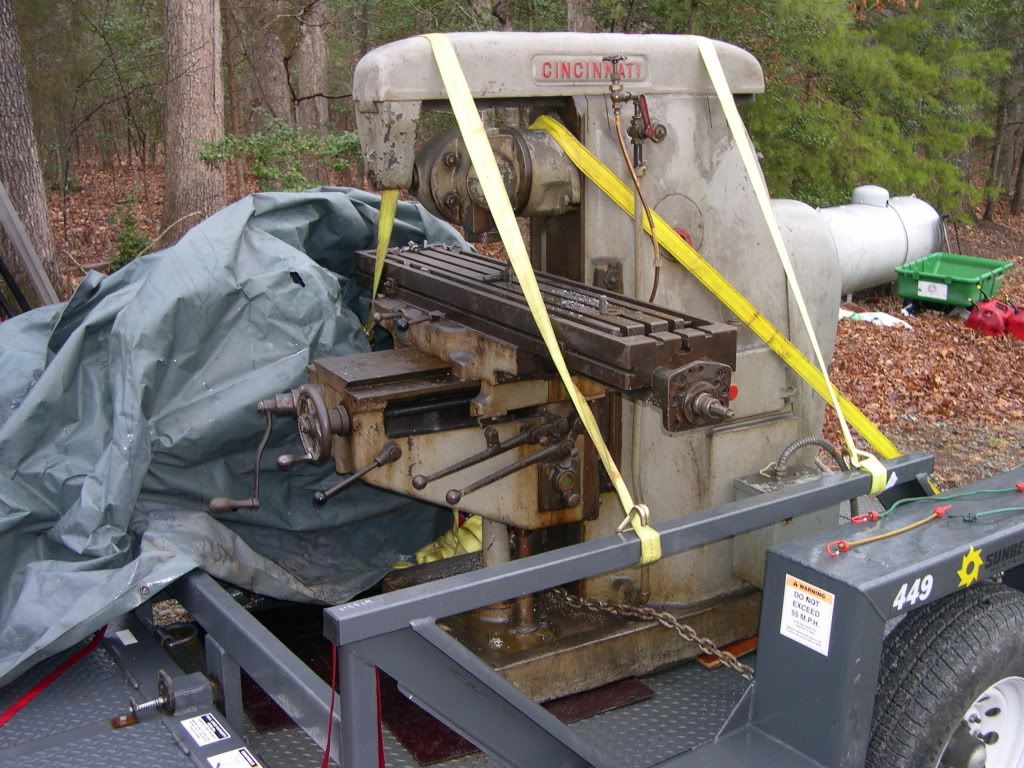 Open wide. I took the doors out to fit the table through because I still thought I would be up and running without a complete tear down. The tarp is covering the K&T mill column and you can see its knee up on blocks behind the orange bucket.