A couple of years ago I picked up a mechanical press at an estate sale for $100. Could not have bought the steel for that price. It's been sitting around waiting to be worked on as it did not have any easy means to raise & lower the horizontal cross member except by brute force.
I had a winch left over from a previous project so I bought some overhead door pulleys and some 3/16" wire cable and went to work. Now its quite easy to raise & lower.
I had also picked up this arbor press so I stole the idea from a previous post to hang it on the side of my large press. I also bought it for little of nothing as it was missing the round plate with the slots. Made one from a piece of plate I found lying along the side of the road one day.
The arbor press is a Greenerd #2 which I assume means it has a 2 ton capacity. Not familiar with this brand, but it has been chrome plated at some point and has a 3/8" reamed hole in the end of the ram with a drilled & tapped cross hole for a set screw. The previous owner used it to extract primer caps from used rounds. So I made a consumable end for the ram that can be dressed up/replaced as necessary.
The mechanical press is a bit of a mystery. It is certainly US made as it was fabricated from Birmingham Steel. The only markings (other than Birmingham) are the numbers "20-7" cast into the ratchet mechanism. It's a lot slower than hydraulic, but boy can it create some force! If anyone can ID this press I'd appreciate knowing who made it, where, and possibly its vintage.
Thanks,
Stan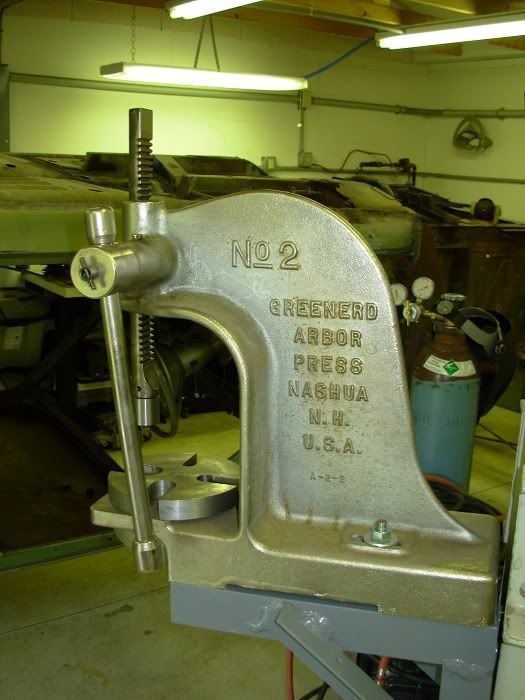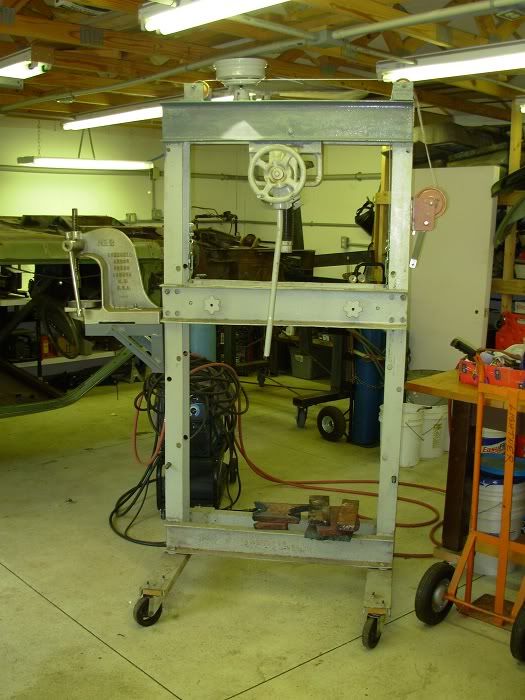 And oh, BTW that is a '68 Mustang coupe upside down on a rotisserie in the background.