OK, time to check with the Galactic Compendeum of All Knowledge in the Universe... You guys!
I have been tasked with identifying an odd hose barb fitting for work.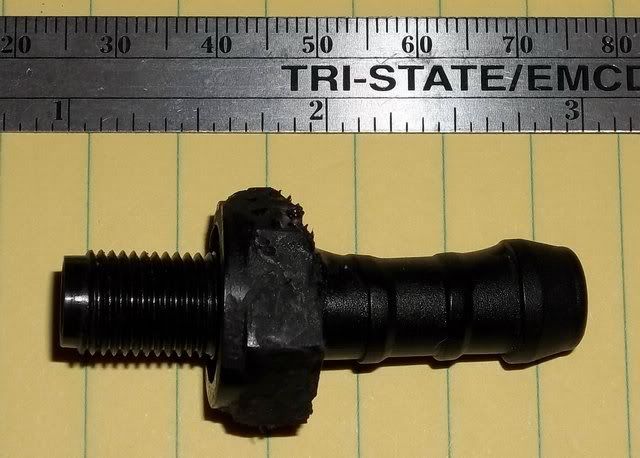 This is a black plastic (possibly nylon) fitting that supplies DI cooling water to the aluminum buss on the secondary of a 90 MVA transformer. It was damaged during an arc flash and fire. We currently have no leaks, but MANY (i.e. >60) need replacement.
The barb is easy enough, but I'm having real trouble id'ing the thread.

NOTE: Being a softer plastic, measurements may be off +/- a few thou.
It is a straight thread with an o-ring seal.
I have checked and rechecked the thread and I keep getting 25 tpi.
I do not have thread gages, but I counted 10 threads and measured 0.400".
I have compared the threads to a 5/16 x 24 bolt - too coarse.
1/4" x 28 bolt - too fine.
Overall size is very close to 1/8" x 27 npt, but the threads not still not quite right.
I have been all over the net and have achieved nothing but confusion.
Any insight will be greatly appreciated.
Suitable replacement parts would need to be (in order of desireability) plastic, stainless, or brass. Absolutely nothing magnetic.
Thanks