I have made a number of special AXA quick change toolholders. I was in the mood to make another special one this weekend. There is a long story behind this project but this is the short version.
How many times have we found ourselves in the this situation.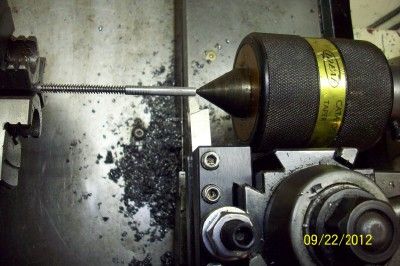 A small workpiece and a large live center with the toolbit extended to far out from the toolholder. To much hardware in the way to do anything else so we just deal with it. We take it real easy and sometimes we get by with it and sometimes we don't. How about the times the toolpost hits the livecenter long before the tool ever reaches the workpiece???
Today I got the idea of making an AXA toolholder that was extended to keep a tool well supported yet clear of the lathe hardware. I added 3/4" to one end of the AXA toolholder for reaching out to clear the livecenter.
Plenty of clearance between the toolpost and the center with the extended toolholder.
Below is a comparison between a standard AXA and my extended AXA toolholder. As you can see the toolbit is a bit stuby but it is still well supported and should stay in position.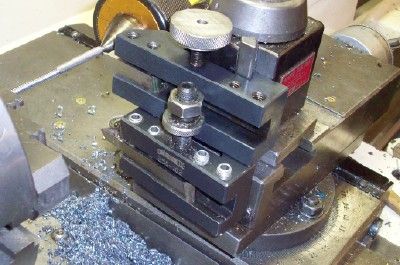 In case someone is wondering the toolholder is "gun blued". I do this by surface grinding all the surfaces. Place in my heat treat oven at 850*F, let soak, then cool in a bucket of used motor oil. Black oxide is much nicer but I have had poor luck doing black oxide at home.
Hope this was of interest, Jim