Been piddling/minor cleaning in the shop today and bumped into this motor. It was on an auto air suspension compressor and I had previously carved off the compressor housing and other non-essential bits. The commutator was worn some so I set it up in the lathe, turned it smooth, polished it and cleaned out the grooves. It's a PM type with a ball bearing on the drive end and an oilite bushing on the other end.
I set it up for some tests today and here's what I found: 2.3A @ 13.5VDC, 3350 rpm w/no load. The output shaft was too short to apply a load by hand and still measure rpm but I'm guessing it drops to about 2000 rpm under its previous design load and pulls 4 to 5 amps.
My intended use for it is an auxiliary drill/mill spindle attachment to mount on the carriage of the ORAC CNC lathe like Jim did on his for small hole drilling and light milling. I'm thinking it doesn't have enough "oomph" to do much good but may fool around with it a bit longer and see what it can do. Ya'll think it's a waste of time? So far I've had no luck finding a (cheap) small 90VDC motor to go with my preferred KB speed controls.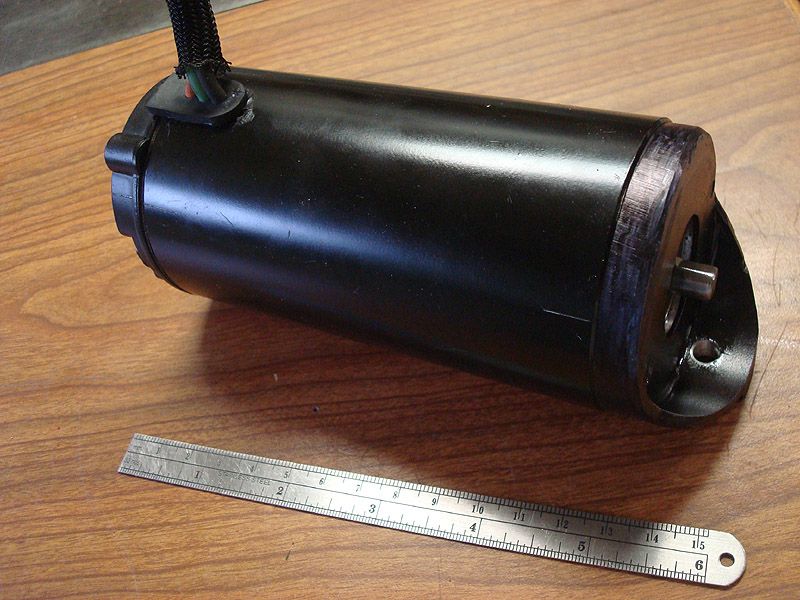 I have this modified KB controller with a PECO auxiliary board on it that has terminals marked 120VAC in, slow/fast and fwd/rev. The KB is marked 36V input so that must be fast speed and I'm guessing slow must be 18 to 20V?? Does anyone have any experience with this control? I'd like to use it but haven't been able to find a manual for it to see how to hook it up to select slow/fast or forward/reverse. The HP resistor is marked 1/8 – 1/5 so it should be close to the above motor rating? I think the motor would work OK at 18V under intermittent use.