I was asked by a pm to give some more pics and any details on the crane I built several years ago.Instead of replying to just one person I thought I would share a little more with everyone in hopes it gives more ideas and shows what works for me. I don't like to put too much home built and designed stuff on the boards because of all the armchair engineering that people offer. I did receive a good suggestion to add the brackets under the trolly to keep it from bouncing off in case a load dropped suddenly.You can get some good input but some go too far and tell you to buy one....Thats a little too far .We do this stuff because we want to and like to.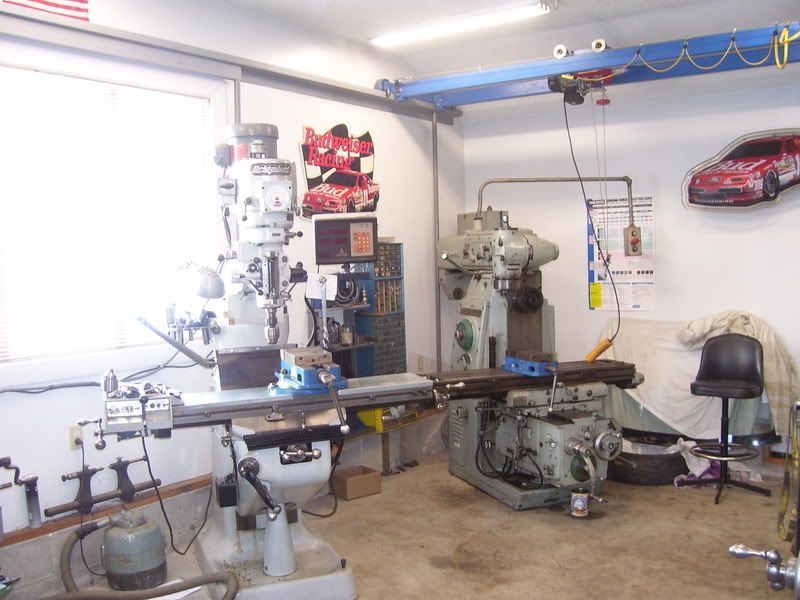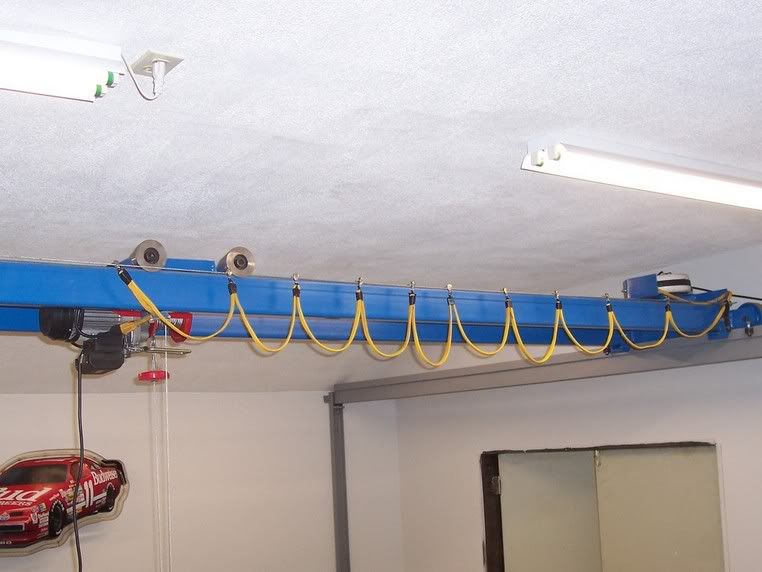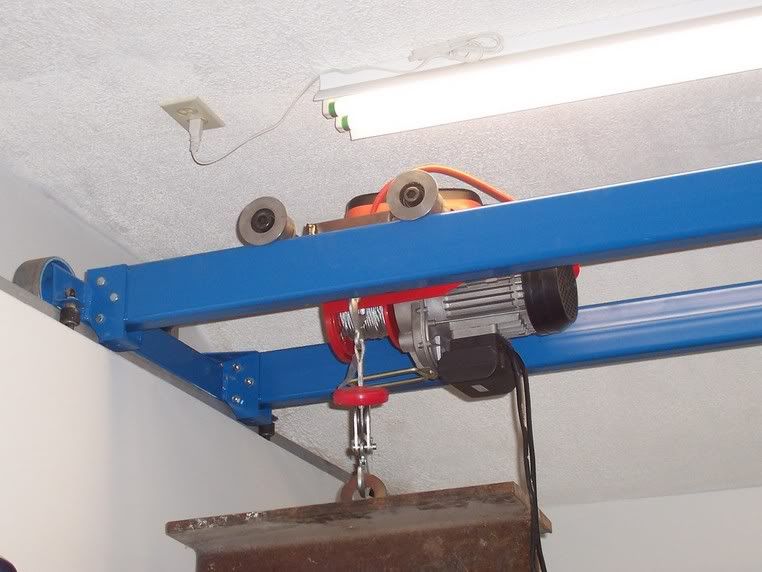 A few details..Span is 12 ft. Made from rectangle tubing but cant recall size and thickness. I wont suggest any size since I am no engineer anyway.The rails are ship channel laying on its back and it sits on a 2x2 angle iron with supports. The opposite side sits on a wall almost 3/4 way. It was built to fit the buildings structure. Kinda...I dont lift huge weight so this saves my back and makes life MUCH easier
The hoist is a Harbor freight 800 lb lift.I have a retractable extension real to payout the power cord to the bridge as it moves.The trolly is feed by the draped cable that is hanging from a cable and hangs by little pulleys. This all works very well.
The bridge rides in the ship channel so it cant derail. I added the little delrin guides to keep the bridge from racking.This also works well.
The brackets for the trucks were made with taped holes under the rails so I could put adjusting bolts in them to level the rails across the span since one side is sitting on a structure wall and other is bolted to the top plate of the wall then sits on posts.Turned out I saw only off a little bit in height but this made it easy to adjust. After I leveled that I drilled the holes thru the beams and removed the adjusters.
The trucks on the side rails are a piece of heavy square tubing with the top and bottom cut out so wheel can fir in between and axle goes thru both sides and has grease fittings.
The trolly has the wheels that have a shoulder that aligns it and keeps it on track. There is 2 brackets that are positioned close to the bottom of beam to keep the trolly from possibly being slung from the rails if a load would let loose and sling shot the hoist.
To be honest there isnt much I would change after using it for a few years. Everyones design is to suit them and their needs and mine has done well for me. Hope this helps some. Jim
http://smg.beta.photobucket.com/user...tml?sort=6&o=1
http://smg.beta.photobucket.com/user...tml?sort=6&o=0
http://smg.beta.photobucket.com/user...tml?sort=6&o=2
http://smg.beta.photobucket.com/user...tml?sort=6&o=3
http://smg.beta.photobucket.com/user...tml?sort=6&o=4
http://smg.beta.photobucket.com/user...tml?sort=6&o=5
http://smg.beta.photobucket.com/user...tml?sort=6&o=6
http://smg.beta.photobucket.com/user...tml?sort=6&o=7