Hi folks,
Just been out and spent some time inspecting the machine. Here are some of my findings-
1) With the table removed, the bottom surface of the rear slideway on the saddle is 2 thou lower than the front one, measured by placing the same parallel on each and indicating it from the head. This error isn't removable by lifting the front of the knee or by tightening the knee's gibs.
2) With the saddle locked tight and the knee gibs well adjusted, a precision level on the table reveals that the ends of the table rise and fall as the table is moved left and right. It seemed that adjusting the table gibs tighter didn't really stop this from occurring.
3) With the table mounted, indicating it from the head, the front of the table is 3.5 thou higher than the rear
I'm a little bit exasperated at present, as all of these problems don't seem to go away by mere tightening of gibs, which is what you'd hope for. I would like to know how to indicate the ways of the knee to see if the knee is not sitting parallel to the spindle axis, but I'm not sure how.
At the moment I'm trying to decide if all of these problems can be rectified with ease, or, if the machine is just worn out of shape! It doesn't look so, all the ways almost look newly ground, smooth and evenly finished with no sign of wear, albeit no scrape marks either.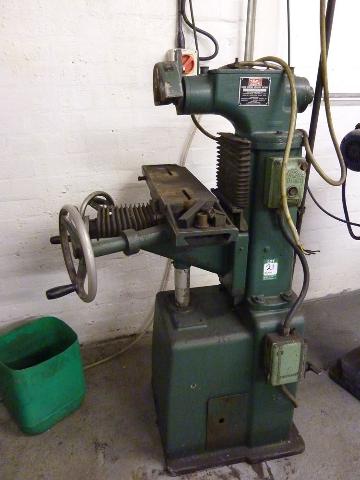 Cheers,
Rich