Well, I've finally been able to start working IN the shop instead of ON the shop!
I wanted use the Newey shaper that I got from Lane. So far I've planed a set of press plates that came with a HF press, made a T nut for a QCTP on my SB16, tapered a set of vise jaws for an upcoming project and hogged a couple of blanks for some tangent toolholders.
I took some videos with my phone and thought I would post them.
This one is of the press plate job. These where cast iron. They were so rough and uneven that they were useless for their intended purpose. They started out about 1 1/4" thick and I had to go down to 1" to get them to clean up. I got to play with a cast iron finishing tool that I read about an old shaper book. The tool worked way better than I thought it would. The finish was smooth and had a velvety sheen. Hard to believe that a wide blunt nosed tool running at max feed would leave a finish that good.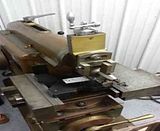 The next two are of the toolholder blanks. I sawed these out of a big piece of A36 (I think). Ordinarily, I would cut parallel to the long axis, but since I was working to a shoulder that wasn't possible.
The toolholder I'm using in these shots is pretty small for a shaper this size. I'm not using it for heavy cuts. I got several larger toolholders with the machine and I use them for serious cutting. I got this one and several pieces of blank tool steel with a small Sheldon lathe I bought a few years ago. I needed some special shaped tools for light cuts and the 1/4" bits ground quick and easy. Their not a high alloy tool, but they work fine at the slow SFM that I'm using.
I tried out a shear cut finishing tool in the last video. It may be hard to see since I'm only taking off .002. Worked just like the old manual said it would.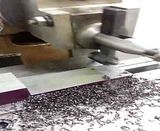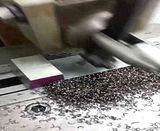 Lane did a great job restoring this machine and it's a pleasure to use. It will make fine finishing cuts consistently and hog heavy cuts when needed. Saves wear and tear on my mill and cutters. I also just love watching it work.
Mike