I got a torque wrench from E-Bay this week. From the box, the brand name is MAC and it reads 0-50 ft-lbs. It is well used, and needed a good cleaning. It is a dial type, as you can see in the photo below, and the dial was sluggish, especially in one direction. So I took the cover off and did a good cleaning with WD-40 and alcohol. That was followed with a careful application of a light oil. It now appears to work almost like new, even if it still shows it's years of wear on the outside.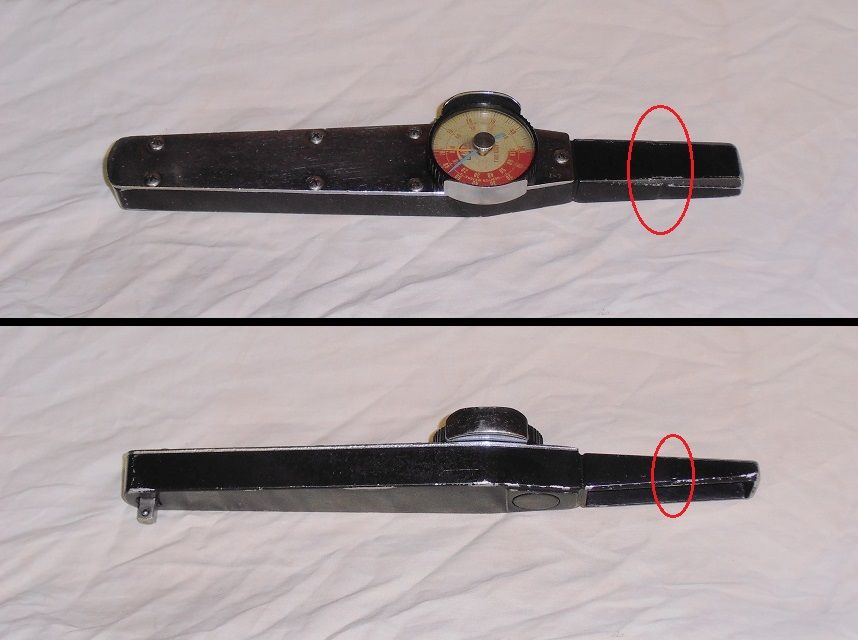 That brings me to checking and perhaps adjusting the calibration. As you can (almost) see circled in the photo there are a pair of notches cast into the handle portion of the bottom cover. So I measured the distance from the center of the 3/8" drive stud to these notches and got 12 5/16 inches. I would have expected a round number, like 12 inches. Then I could hang a weight and read directly in Ft-Lbs. Since it also has metric units on the dial, I suspected possibly a metric distance but 12 5/16 inches translates to 312.74 mm so that is not very likely.
This sketch shows these notches a bit better.

My question is this, is there some reason for this odd distance? As I said, I would have expected a nice, round 12 inches. But even if I take the measurement from the side of the drive stud nearest to the handle, it is still 12 1/8 inches. Still odd. Is there some reason why this particular type of wrench would be calibrated at an odd distance? Perhaps the effective center of rotation is shifted a bit due to the internal bar being bent over a distance instead of at a point?
So, do I use the 12 inch dimension or do I use 12 5/16 inch dimension when checking the readings?