Hey guys, I wanted to pick your brains a bit on how exactly you would perform this task. I have a good idea of my own, and I think it would be effective, but I wanted to see how you would approach it. I have a small diesel performance business, and we have pushed the stock type turbos beyond what we have the fuel for now. I and a few other guys have built custom setups to run bigger turbos with great success, but the biggest complaint from the crowd is that they dont want to spend the money/modify to accommodate a custom setup... My solution to this is to use the stock "hot" side setup, and graft a more modern series of turbos (Already have them picked out) into the stock turbine housing (Which is sized just about perfect for the new turbo). I have already done most of the dirty work in figuring out how to go about it, the issue I am at all apprehensive about, is machining the Radius in the bore of the housing like below: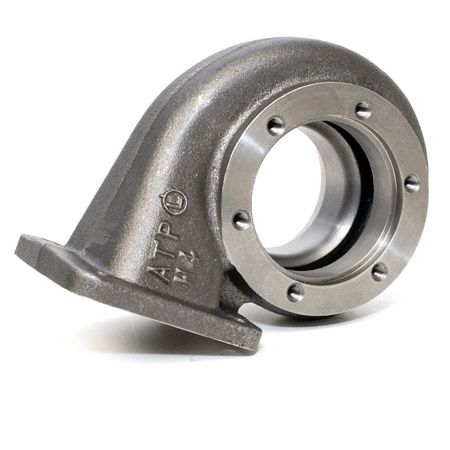 It is about 45* of a 1/4" (or so) radius, and I am worried that just grinding a radius tool, and boring with it on my 10x22 lathe, or with my boring head on the Round column mill is going to result in a lot of chatter... In fact I know it will, so I am not even going to entertain that idea.
Being that the turbine wheel is going to be the same wheel for both turbos I plan on upgrading to, I am thinking about making a cutter with the radiused profile that will ride on a pilot, very simlilar to a valve seat cutting setup, and have a base that the housing will clamp to, and index off of the exducer bore....
My question is, how would you do it?
Thanks,
Justin