Here's a few pix of my nearly completed threading adapter. The board represents the direction of the lathe bed. In the first pic, the tool is shown in the forward position.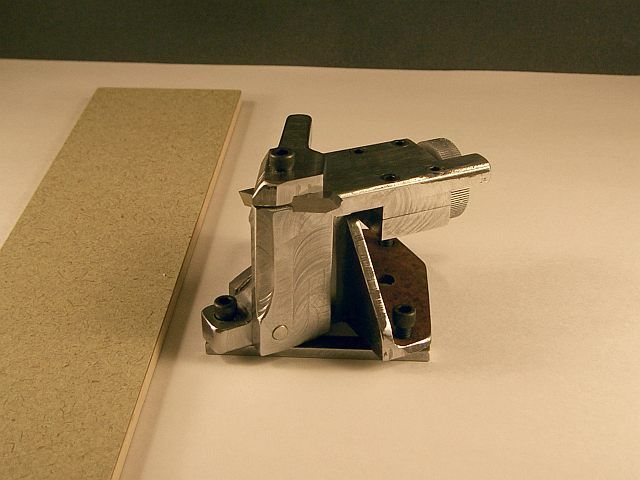 In this pic, it's shown in the fully tilted back position.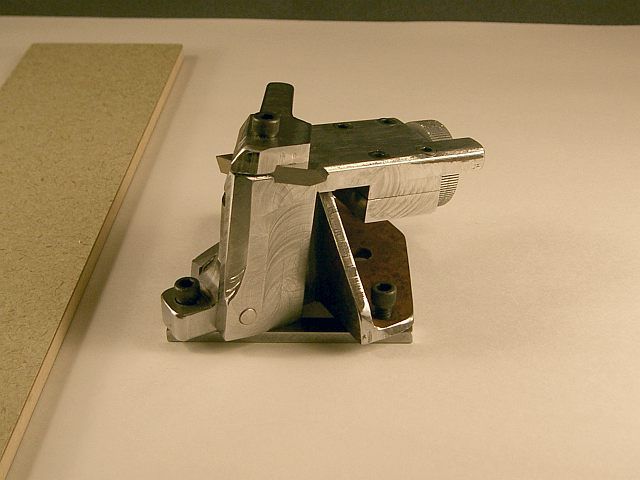 This is how it's oriented when mounted on the cross slide, from the operators perspective behind it.
It tilts forward and backward at the 30 degree thread angle. The graduated wheel turns a threaded adjustment rod which limits how far forward it tilts. The hardware at the bottom is how it's clamped into the T-slots. The hold-down on the top is designed so I can pull it to the right, which takes up all the side play where the cutter sits in its groove. The tab nearest the operator is the reference point for the markings on the wheel. The wheel moves in and out as you rotate it, so I figured this would give a way to keep the zero line and the markings close together, regardless of the position of the wheel.
I made one mistake- the threaded rod I used for the adjuster is 1/2-20. I wanted the wheel markings to be .001 per division, which would mean 50 markings. For some reason I scratched on 100 markings. So now each line represents 1/2 thou. If I want .003 of feed, I'll have to count 6 markings.
It's fully functional as shown, just not cosmetically prettied up. I did a quick test and it seems to work fine, though I have only done a small thread. We'll see how well it works with a deeper thread when that kind of project comes up.