Crude drawing of a piece of channel, into which I need to machine a nice clean notch as shown.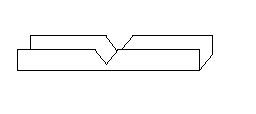 I'm trying to think of the best way to hold this. These are 1 inch wide, about half inch high, about 4 inches long, 1/8 wall thickness.
I can rough them out on the bandsaw, but then need to hold them at 45 to clean up the notch. I have an angle vise, but it doesn't angle in the right way to do this job. Sure would be nice to be able to angle a vise the other way-
Maybe I'm just missing something-
There will be two holes in the 1 inch wide part on each side of the notch. All I can think of is to use those holes to screw each piece in turn onto an angled piece that I'd have to make up as a mount.