Why does everyone get so down on lantern toolposts?
I have been driven to madness by the 4 way toolpost on my 12x48 lathe. I feel I can honestly say, I would rather have a single station, that I could easily adjust on to center, than four stations with all the adjustment finesse of a sledgehammer.
I have considered swapping out to one of the ubiquitous Aloris type posts, but as always my lathe makes life difficult - the compound isn't t-slotted, but has a threaded in stud on which the original toolpost rotates. People always complain about the lack of rigidity in a lantern style post, and I would agree when you are sticking a great big Armstrong type holder in there to hold your bit, on top of a rocker - the moment arm is huge. But when I look at your typical Aloris type holder, the moment arm seems equally huge; it is just that the toolpost itself is more massive, but the holder itself is not, and is generally supported in tension only by a single screw.
I was browsing Tony Griffith's lathes.co.uk site the other day when something caught my eye - Looking at the page for the Atlas 6" mark 2 was this toolpost: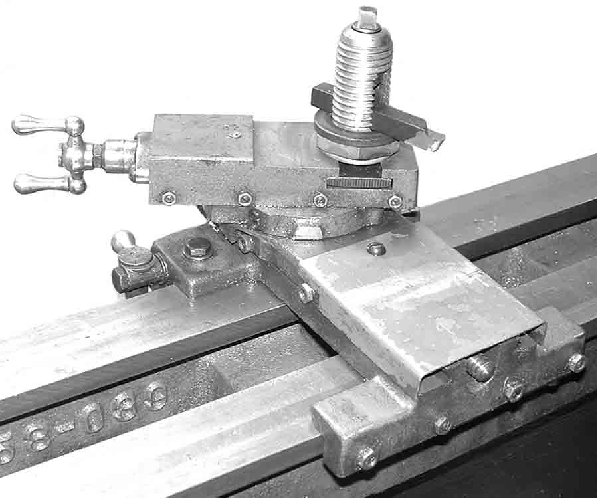 It seems so simple - threaded on the outside; a hex nut on the bottom to pull up the T nut, a knurled nut in the middle with which to set tool center height, and in my view, above the tool should be a washer, and then another hex nut with which to fix the tool.
Can anyone see obvious fault with a toolpost built to this pattern, of approximately an inch in diameter, designed to hold the half-inch HSS tools I invariably use on this lathe? Holding the toolbits directly in the toolpost, I cannot see how it could be less rigid than an Aloris type holder; the moment arm would be equal, if not smaller. And it would be far more manouvreable than the equivalent Aloris.