I was doing some sheet metal work today and needed a nice looking round 20 mm hole in the galvanised 0.75 mm thick steel sheet. First tried drilling, but what a big suprise, it doesn't go well with a thin sheet (don't ask). After hiding all the evidence, I thought of going shopping to purchase a step drill or a sheet metal punch...hey, wait a minute, I'm a HSM and a tool maker! So, time to make one.
Material chosen was some mystery metal, all I know it is prehardened and possibly close to Imacro. Machines nicely, gives beatiful finish and is tough. I could have chosen some hardenable tool steel like 1.2510, but as I only wanted two holes made with it I didn't want to bother with hardening.
So, off to the lathe and first shaved out the punch part. The diameter is 20.0 mm and a 10 mm hole through the center. I first drilled to 9.5 mm and then with a 10 mm drill to make a pretty good hole for a bolt to enter.
Next part was the die. I drilled 19.5 mm diameter to a depth of 5 mm and bored it to a diameter of 20.2 mm to give clearance for the punch. And the same operation as for the punch, a 10 mm hole through the center.
Found a nice M10 x 70, 12.9 hardness grade. Took couple of washers and an M10 nut (nothing special) and now I had these: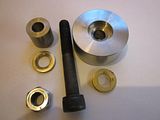 After assembling them it looks like this: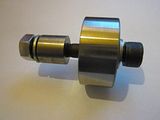 Well, of course you assemble the thing through your pre drilled/punched sheet metal and then just tighten the bolt and nut until it makes the hole.
Once the punch goes through, you discover why the commercial punches have a reduced diameter behind the cutting face. It should be there so you can pull the punch through the plate with the screw, as the punch sits like a frozen duck in a pond in that hole it just made.
The punch I have done and shown was used to cut only two holes and required a little bit oomph when tightening the SHCS and the nut. If you want to lessen the force required, grind/mill/file the punch end so that it looks from the side like someone drilled the end. This way the punch cuts only on a small portion at a time, lessening the force required to pull it through.
Also a way to reduce force is to put a small thrust bearing under the bolt and nut. If you look closely at the first image, you can see the friction marks on the washers and nut face.
Also the clearance between the die and the punch affects the force required, but not much in this case. The usual total clearance for steel sheet is 16-20 % of the sheet thickness. For my 0.75 mm thick sheet it should have been 0.12-0.15 mm, but the 0.2 mm difference in the punch and die diameters was a good tradeoff, especially when I just wanted to see if this works