I am in need of a plan for replicating the pitman arm assembly on a 1960's vintage combine I plan on purchasing. The combine has a windrow pickup attachment on it and the factory linkages for driving a sickle knife are long since gone. I need to convert it back to a direct cut header with a sickle for harvesting beans. Factory or salvage parts are non-existent. It does not need to look factory, it only needs to work.
The mechanism is shown between 1:04 and 1:07 on the video linked below. Parts that need to be made include the eccentric that is shaft driven (towards the right side of the frame), the long (red) linkage rod, and the triangular shaped pitman arm (on the left).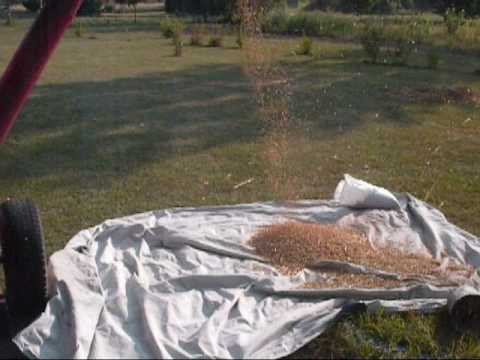 I have the fabrication abilities to pull this off, however I am somewhat stuck on how/what to attach the linkage rod to the eccentric with (right end of the red linkage rod). I am not sure how they did it originally and do not know of any examples that I could go look at.
In my mind a joint similar to a heavy duty steering tie-rod end that has a ball bearing that would allow for high rotational speed and long life would be ideal. A tapered stud mount into a tapered hole would keep the joint from hammering itself loose over time. However, I cannot seem to find anything like this, no less a reamer for the hole. Do these exist, and if so what are they called and where can I find them?
The other idea I currently have is to use a high-speed rod-end bearing similar to these.
http://www.mcmaster.com/#rod-end-bearings/=mc70e8
I figure I would want one with at least a 3/4" stud for strength. Cost is a factor as well, $200 or more for the joint would make this project cost prohibitive.
Ideas, vendors, opinions?
Thanks as always!