I have a problem with my cutoff tool holder. It has been fine up till today, when I changed the stickout of the tool for a 1 3/8" OD bar to part off. When I did that, I broke the blade, the only one of that small size I had. I switched to a larger, thicker blade and had problems getting the blade to be locked into the holder.
The holder is a generic Chinese BXA size, with a "shoe" driven by a left/right threaded shaft (screw) for takeup. The screw is driven by a hex socket in one end of the screw (4mm socket) which has wallowed out. I cut a slot with a dremel tool in the other end of the screw so I could finish the job (I had to reset the shoe to get the shaft to protrude beyond the shoe so I could cut the slot) using a screwdriver.
What I need is a replacement screw, its about 8mm diameter (7.84nn measured) of fine pitch with left and right hand threads of some fine metric pitch on it, with a 4mm hex in the end.
Anyone know of a place that might have such a part? I sent a email to CDCO, but thats not where I bought it from, I don't remember where I got it from. I think I got it from Harbor Freight on a closeout deal, which means they won't have any parts.
Anyone else had this problem, how did you resolve it? Anyone know of someone who may have parts for this?
Steve
A end view of the screw with the screwdriver slot in it: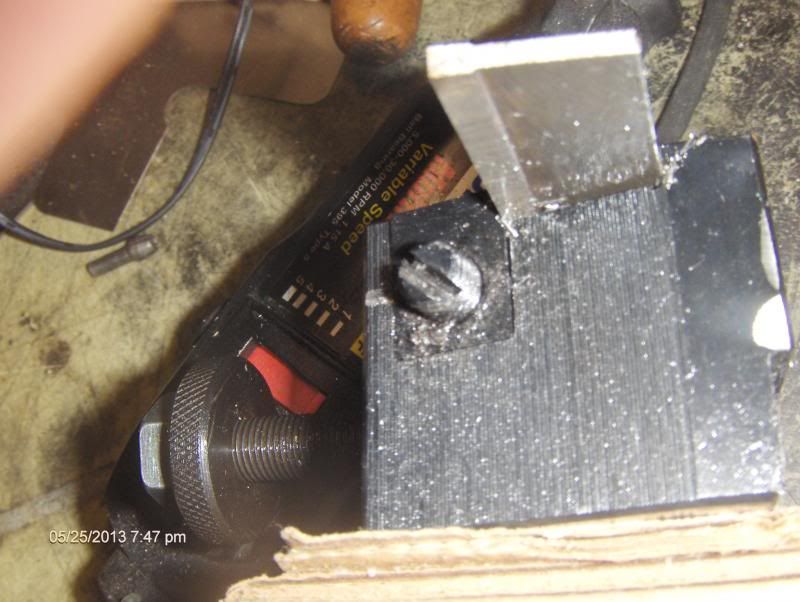 A side view with the shoe and blade, you can see the screw in the slot above the blade: