I would like to make a punch that will trim the ends of some 22 ga. CR mild steel (0.030") strips. I have 10ft long by 1 1/2" wide strips that I will be cutting down into roughly 1 ft sections. I want to trim two ends at once so I can push the strip up to a stop, punch, drop out the cut piece, and then push the stock in to the stop again. The punch is cutting the back end of the first piece and the front end of the second at the same time.
Here is the shape that I want to cut: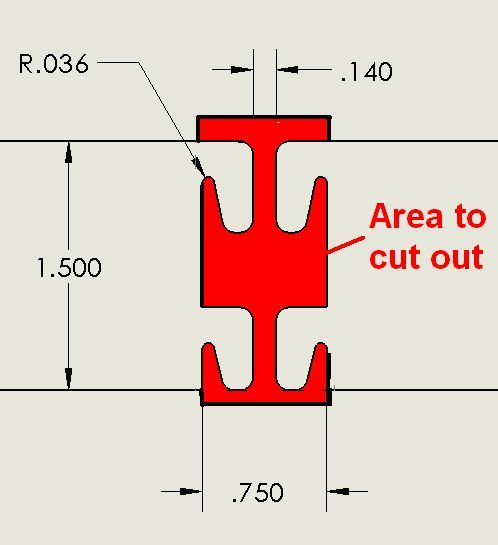 The punch can go past the edges of the strip so I am really making 2 shear cuts simultaneously.
I was thinking of making the die out of a 1 1/4" x 2" x 1/4" tool steel and the punch out of 3/4" x 1 3/4" x 1/4" tool steel. I can attach these to heavier pieces of mild steel for rigidity.
I have an oxy/acetylene torch but no heat treating oven.
I have a Grizzly (Sieg SX3) mill.
I have a 20 ton shop press, a 3 in 1 shear/bend roll, and a couple of small manual arbor presses.
Assume a quantity of 100 pieces to start.
Any suggestions on the tool steel to get?
Is 1/4" too thin?
Is there a better way to do this? (I am trying to avoid trimming each end of a 1ft strip because that make 3 operations per piece)
Neil