Up at Dad's house in Methuen, Mass, I put in a fence for the dogs. One of the guys who was here working on the siding back in April made 2 wood gates for me, he called them basic farm gates. One is 3 foot wide, the other is 6 foot so the man I have mowing can get his riding mower in the enclosed area. I need help with latches. I have taken photos of the 2 gates. As long as the ground has not frozen, I can move the green metal post closer or further away depending what is needed. Both gates, we mounted the hinges so the gate swings both ways, in and out. The wood part is about 2.25 inches. The guy used the green plastic fencing for the gate (my idea) and I've painted the gates to match the new siding.
The small gate is my critical problem. I am using wire twists to hold it closed and that keeps loosening up. So the dogs can and do get out. The 6 foot gate is not as easy for them; due to its weight, I have a brick under it to support it so all the weight is not on the top hinge. This keeps it rather immobile. I also had to put wood at the bottom, my dogs are small and potentially could wiggle out.
I think my best option is a butterfly latch, available at Home Depot. I realize it may not work 100% in that it won't swing closed and latch itself -- the green metal post is higher than the gate and I am not concerned about this enough to figure out how to cut the metal. The fact that I can latch it and open it either in or out is what I like about the butterfly latch.
http://reviews.homedepot.com/1999/20...ws/reviews.htm
I do not know which size latch to get, and I do not have a clue HOW to attach it to the gate. I would appreciate help on this.
This is the small gate: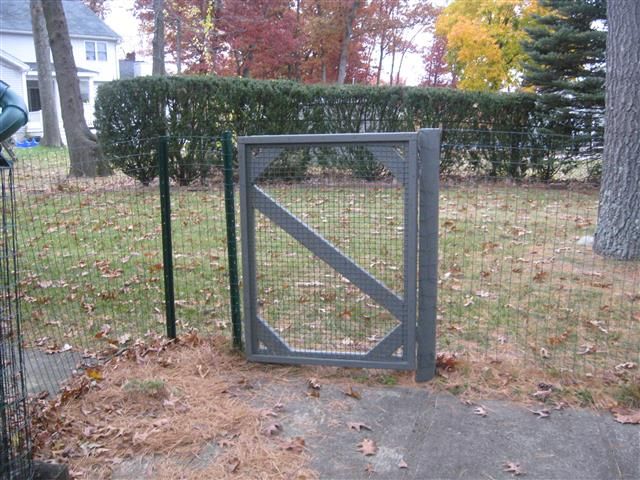 End on, this is the part I measured as just a tiny bit over 2.25 inches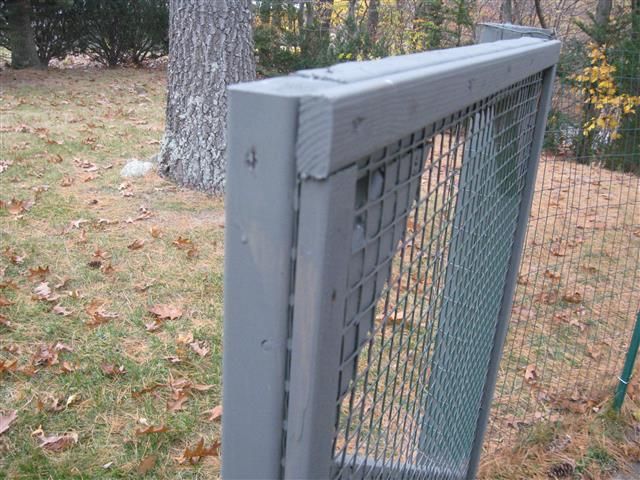 This is the outside of the gate, that is Tasha in the background.