I'm still thinking about ways to make small experimental motors and it may be best to use thin steel laminations. But I need a way to make a lot of them to stack, and it will probably require a punch and die (unless I would have them laser or water-jet cut). I found some EI transformer laminations that are 0.0135" thick and have a 1.5" x 3" center portion. I found a simple hole punch set for smaller holes, and I thought a similar method should work for what I want:
http://www.ebay.com/itm/120767872729
Here is the most recent idea I have for a motor, and in this case it is a Switched Reluctance Motor (SRM):
This actually shows a very thin motor where the stator is made from a USS 1-1/8" steel washer in which I will drill six holes 1/2" diameter and a 1/8" slot for the windings. There will be six windings as shown in blue, and they will be energized sequentially to pull the rotor along and rotate. I show the rotor made from a USS 7/16" washer with four 1/4" holes and then wide slots cut to form the four pole pieces. I also show an initial idea for a punch that could make the rotor pieces from the transformer lamination steel. The first operation would just punch a 1.25" round disc. Then there would be a center 1/4" hole and four more around it. Finally the triangular pieces would punch the slots. But that seems like a lot of work and probably not the best way to do it, especially the last operation. I also thought about making a narrow flat punch that would essentially cut slits, and that might be better.
Actually, for the SRM, the rotor could be machined from a piece of bar stock, while the stator should be made from laminations. I may get some shim stock which comes as thin as 0.001, but I think 0.005 to 0.008 would be good. It would just need to punch 2.75" diameter discs and then a 1.25" hole in the center, and then six 1/2" holes around the periphery and finally the six slots.
I think I will make the first proof of concept prototype from just the washers, and not try to make a hole punch. The punch from eBay will work for 0.5" to 1.0" and probably fine for the thin material I'll be using.
Here is a video of a very crude SRM that I made a while ago: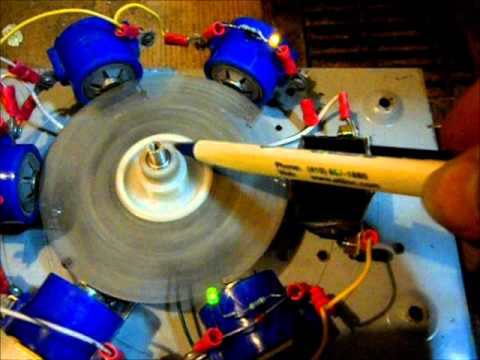 Here is a good video of the basic principles of the SRM as well as the Reluctance Synchronous Motor which has certain major practical advantages:
http://www.youtube.com/watch?v=AzjrpZtAaBo