Went to two estate/tag sales today....
First one I was too late for the Clausing 8520, which sold for $825 in pristine condition. I thought that was nearly theft.... but I really didn't need it.... it would have been nice, though.
Second one was the 4th or 5th incarnation of a sale that I had been to before..... but the family had got rid of the estate sale company and were now serious about clearing the place. (It had had an incredible amount of tooling at it.) They were selling toolboxes full for a song, so I bought two, one a toolbox, the other was actually an old-fashioned ladies cosmetic case or some such... each heavy.
One was $5 the other was $4, so a total of $9 for the lot, with the toolbox included..(the luggage case I figured as worthless) I looked through them a little bit and paid.... Most of what was in them is shown here, less some hardware and other items....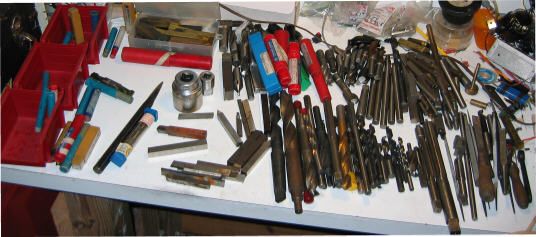 Just the socket was worth several times the total, a nice Williams 3/4" drive of a size I didn't have. Ditto for the 1/2" carbide roughing end mill, and the insert cutoff tool. All of the cutters in tubes, and a number of the others are dead sharp, and several still have protective coating from the sharpeners on them.
Much as I'd not like competition, the deals are out there at tag sales.....