While sipping a bit of Jim's Single Barrel bourbon in the wee hours of this morning, a birthday present from SWMBO btw, I spotted an auction that was somewhat poorly advertised that had some nice tooling shown via rather vague pictures and decided to attend.
Overall view of the tools that followed me home. All manner of special milling cutters, T-slot, dovetail, counterbores, etc, a box of step blocks, another of lathe bits, small jobber drills, taper drills, clamps, step blocks, a box of checkering/gunsmith carving tools, odds/ends, and an external coolant tank/pump setup. Not quite sure if the PO was a machinist or just someone who bought top quality tooling 40+ years ago, but it was definitely some nice stuff. I have ~$30 in it all total. I was also able to rescue a few large boxes of early catalogs, magazines, and books such as the classic Henry Ford Trade School Shop Theory book, an original 1914 B&S Treatise on Milling, several really early "Shooter's Bibles," early shop manuals, early hardware catalogs, and a few 19-0-digit Field & Streams for <$10. Also got a collection of 30s-50s Time and Sat Eve Post.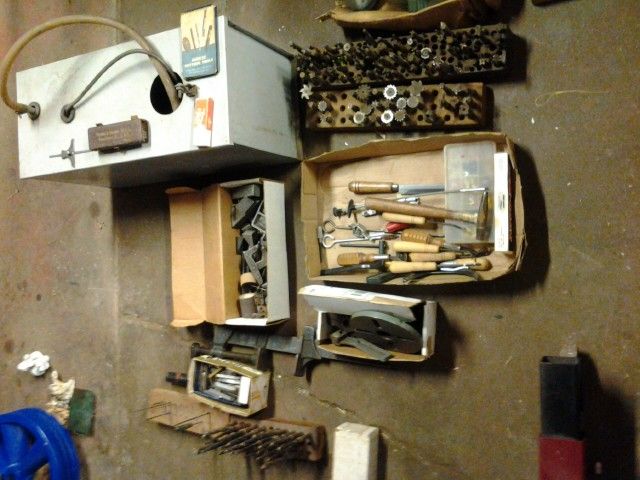 Before I get to my whatsit questions, I must admit this was one of the few auctions Ive ever attended (and Ive been to thousands) where I honestly was PISSED and thought that the auctioneer genuinely screwed the PO, albeit unintentionally. Aside from the usual lack of knowledge and lousy grouping of items, everything sat out in the rain which isnt uncommon except that many of the most valuable items were PAPER. The PO had a small fortune in pre-1950s paper catalogs, magazines, etc as mentioned previously, much of it in LIKE NEW condition prior to yesterday's rain. Also sad, there were tons of original boxes, bags, envelopes, and packaging for vintage tools that had been separated with the tools having been tossed into mixed lots. I snapped the pics below after opening one box full of envelopes for drills....the drills filling other boxes, tins, cans, etc. and also having been rained on. Not sure why it was done, but I sure wouldve been happier and paid more for drills in the original envelopes.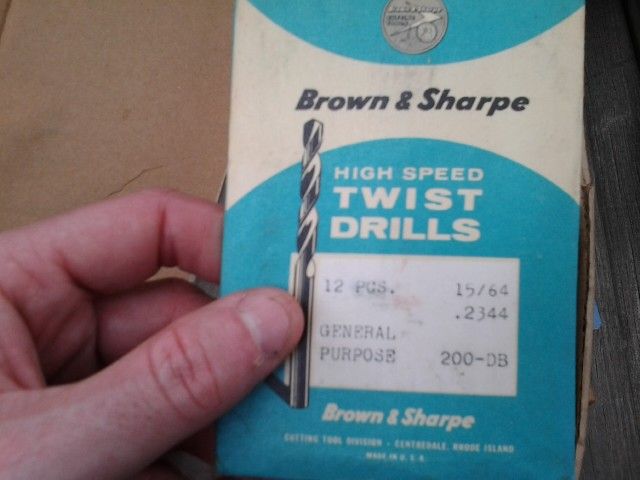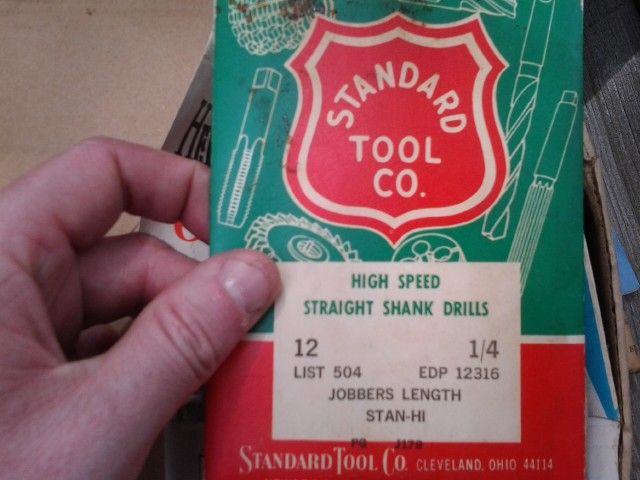 Now for the whatsit questions....I believe the B&S tool in the broken case in the right half of the pic below is a different style of indicator, true or false? I cannot say its one Ive used and this is the first Ive owned, so any specifics on its use would be appreciated.
Also, would appreciate help with identifying the use for the "pliers" in the upper left of the pic just above the Starrett depth gauge. They got a rather interesting set of hooks on the handle end and the business end is also rather unique.
If necessary, I'll get some better pics up tomorrow, I realized after this bunch that late nights in the garage arent the best time to use the cell phone "camera."