There was a discussion of the proper way to clean an old machine on one of the email groups recently. During that discussion, it was repeatedly stated that Zep Industrial Purple Cleaner, a lye-based cleaning solution available in the US, and other similar cleaners will destroy aluminum parts, and aluminum alloy parts. Bead blasting (is that not destructive?) was suggested as a non-destructive alternative.
Now, I am familiar with the fact that there is a reaction between lye and aluminum. No question there. But I have found it isn't instant death to parts.... in fact in cases where I wanted some smoothing and rounding of parts , I found I ended up tumbling them with abrasive because the chemical reaction was not effective.
The folks were not having any of that, insisting it would "eat aluminum right up", complete with lurid stories of "som guy" who had the aluminum head of an engine disappear, leaving only the valve seats, etc, etc. If they would ever use it for cleaning aluminum, it would be a panicked fast dip and rinse...
So I decided it was time for some data, and I produce it here.
I filled a small yogurt cup about half full of undiluted purple cleaner (Zep Industrial Purple Cleaner from Home Depot). A square of foil (2.25" x 2.35") was immersed approximately halfway in the purple cleaner.
After 20 seconds or so, it began to foam up, and looked like this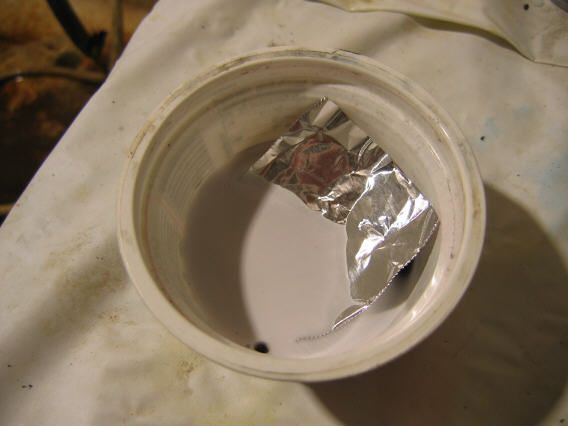 I waited 10 minutes, until the reaction seemed to slow down, and removed the aluminum foil.
The remaining cleaner in the cup had foamed up and held a "head" on it for some time.
The aluminum foil was not visibly affected by the test.
The immersed portion measured at approximately 1.2 thousandths of an inch thick at the thinnest part, and the non-immersed part at 1.8 thou. The difference was therefore 6 ten-thousandths of an inch.
Another piece of foil was immersed in the remaining purple cleaner, and did show some bubbling, but nothing like the original hick "head" was present after several minutes. After an hour of immersion, the second piece of foil did have portions removed. Apparently while the reaction was not "showy", there was still enough reactive material in the solution to do that. Of course the mass ratio of solution to metal was quite large, and it is no surprise there was lye" left in the cleaner.
So, by test, aluminum is "eaten" only in the most minimal amount, about 3 tenths off a surface (6 tenths total off two surfaces) in 10 minutes of submersion in purple cleaner. It sure looks to me as if you are perfectly safe scrubbing virtually any aluminum parts in purple cleaner. You won't have them in solution for very long doing that, and have no need to work in a panicky rush, either.
Just do not soak them for an extended time.