For some time I have been trying to figure out how to shift things around. The shop is in two areas, one is a small room that was the old coal bin, plus an area outside it. The other is a large room at the other end of the basement.
The small room has the Logan and toolboxes, plus workbench, and teh area outside it has the mill and drill press. The big room has "stuff", plus several grinders.
I prefer the smaller area to work in, it's warmer in winter. But the grinders tend to make the big room unfriendly to equipment, and that's where teh space is. So I concluded to put the grinders in the area outside the coal bin, and the mill and DP in the big room. That makes space for the otehr mill, and the Rivett, which is pretty huge with its underdrive base, especially for an 8" lathe.
So, this stuff has to move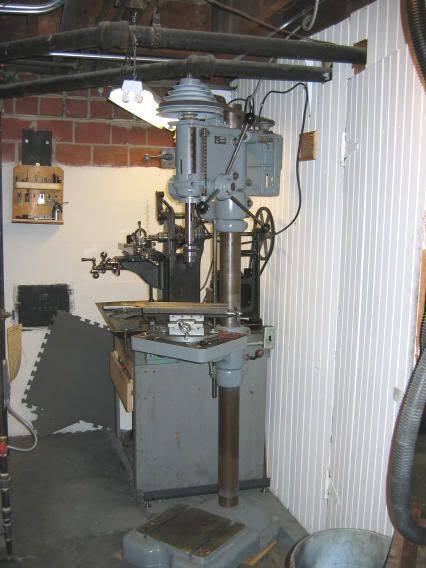 The DP is a pain, it's huge and extremely heavy, with an 18 x 28" CI base, and a large column, head, heavy table, etc. I don't want to disassemble it, it's too tall at almost 80" to make that convenient. The mill should be fairly easy, I have rollers that should allow moving it, even though the basement has an uneven floor due to floor drains.
The DP does "let down" so the head and table are lower. It has a leadscrew, and you can "inchworm" it up and down by alternately clamping the lower nut and upper crank box, lowering table, clamping nut, loosening crankbox and head, then cranking down the head, tightening it and crankbox, etc.
That should be the easy part, I need to figure out how to drag the DP around. SO far I let everything down as far as possible, as a first step. This thing is a "15 puzzle", since I have to move something out of the "hole", in order to move anything else in. The DP is the cork in the bottle.
Partly let down
All the way down with leadscrew against base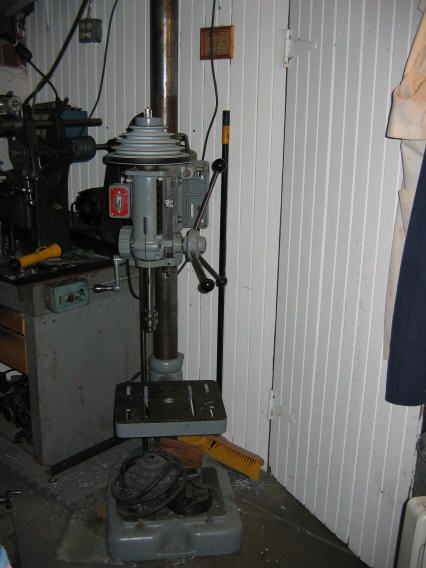 DP base, no flat surfaces to use with rollers.
Too tall and top heavy even in "let-down" condition, to get roller units under it safely, and not possible to use pipe or the like due to the cut sides. Might slide a piece of ply under it, and then use pipe rollers, but that may not be practical.
I may have to just use a come-along, if I find something reasonable to hook it onto. It has a stated weight of 420 lb without motor, so it is a chunk to move. Not 2-wheeler friendly. Maybe a sheet of UHMW plastic, if I had it....
We'll have to see what I come up with.