A couple years ago, I was asked to build two aluminum frames to "support some ductwork". I was given a sketch, and the job went without a hitch. End of story...not quite.
Last week, the new doctor in the Vet Tech program asked me if I could raise two stainless steel enclosures hanging from the ceiling in the operating room.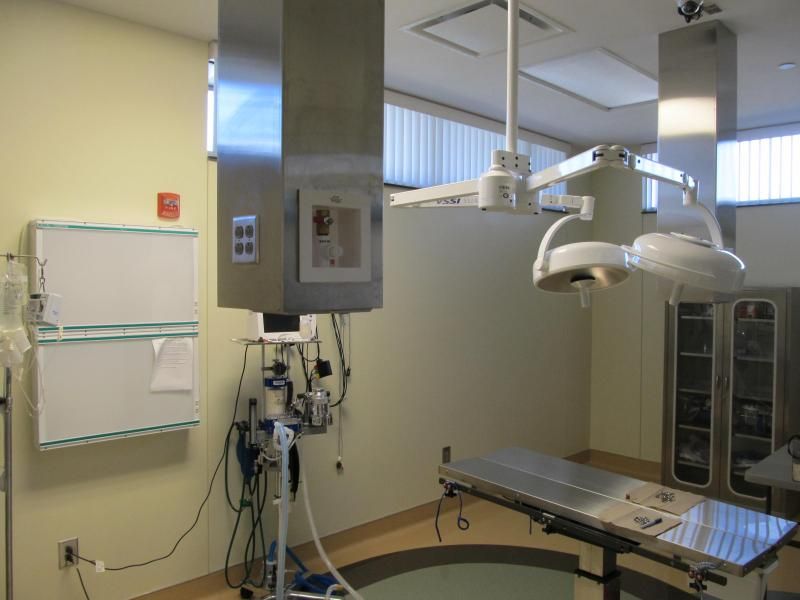 The bottom is only 66 inches off the floor. People are always bumping into them, or having to look around them.
Looking inside, I found the two frames I had built. Turns out they bought the wrong length enclosure, and they didn't want to wait for a replacement. If I had known, I could have shortened them, and made the frames to fit back then. But they never asked.
The enclosures have a quad electrical outlet, an oxygen and a nitrous oxide quick disconnect, and a waste anesthesia gas suction line. Everything except the pvc is flexible.
The frames are secured to the ceiling with threaded rods and self-locking nuts. Getting into the overhead to hold the upper end of the threaded rods was a real problem, so the upper part of the frame had to stay in place.
I developed a plan to remove the SST enclosure, shorten the frame in place, then put it all back together. The first thing I did (not part of the plan, though) was...
Yep, it's definitely too low.