At the peak of "I want to have everything" I got a screaming deal on a B&S clone TB01 dividing head (CL) about 10 years ago. Well... like a lot of acquisitions from that period, I just got around to needing it.
It was "like new. The prior owner said he got it "years ago" (probably late '80) and only used it once; that's once more than I've used it. lol. I want to cut about 15 gears for my lathes, so now's the time to dust it off.
Hmmm... feels a really stiff. Worse, it of ratchets a bit at points in the rotation, particularly when changing direction. I figure its got swarf or casting sand caught in the dried out pig fat used for grease. That was a correct assumption, but not the cause and there was far more wrong.
Here's the DH after I repaired it - doesn't look a lot different to how it was before it started work on it. I didn't intend this to be more than a quick clean/lube, so no pics of the disassembly. Pretty well made - tapered roller ( 32009 Nachi) at the spindle top, thrust bearing at the spindle tail, spindle all ground and nicely finished. Overall fit and finish was good. Hey, this should be a breeze.
Yep.. it was full of grit inside (teaspoon or more non-magnetic sand), but none of it looked like it came though the roller bearing (from grinding wheels etc). The internal casting was sealed with paint where they could get to it easily with a brush. I suspect the grit came from the 10% they didn't paint. Strike 1. The original B&S design was basically good. No idea if it's an original flaw, but the top roller has an open gap (about a 1/16th) at the top and bad crap can get in where it can damage the roller bearing, Rollers have no ability to easily move junk out of the way. But in this case, after washing out, the roller and cup were like new. Later I'll put a 75mm (id) oil seal around the spindle flange to seal it.
The spindle bearing cup and holder: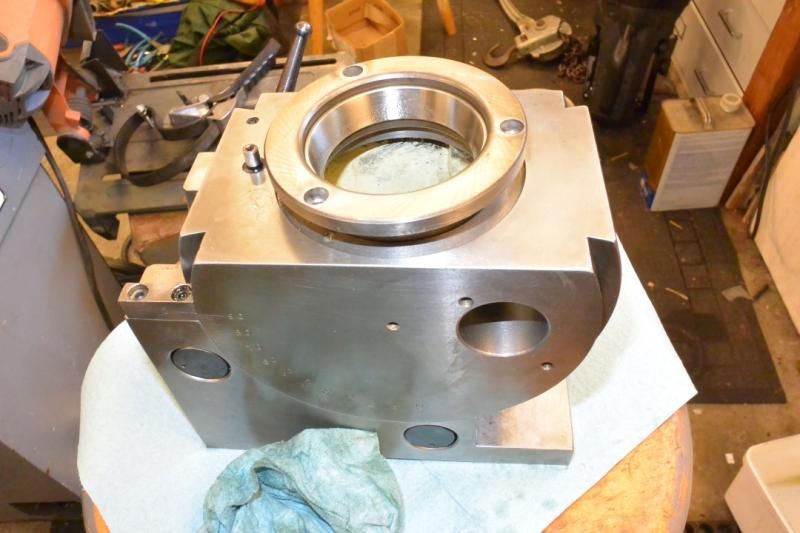 The ratchet feeling wasn't the grit or hard grease (awful grease had dried rock hard); it was a cracked bearing disc on the rear thrust bearing. Every time the roller dropped into the crack it felt "odd".
But wait.. How can the roller drop into crack if the plate is pressing on a solid machine surface...? uh oh.... it's not solid. Frigg... the casting was machined to the correct depth, but an occlusion still existed: (47mm plate, 51mm diameter hole):
But... the occlusion still doesn't fully explain why the plate cracked.