Looking to replace the gear box on my IH Mill with a 3ph motor, vfd drive and pulleys.
While searching the net, there are a number of projects like this, but it seams like there aim is high rpm. For me, i would like lower rpm with as much power as possible.
Right now im in the learning stages of Motors, VFD drives and pulley systems.
So with that said, heres where im at.
The spread sheet shows some speeds at different hertz and pulley ratios.
Motor will be 1750 RPM, 3PH, 3HP with a VFD drive.
Right now, im looking at the
following motor
$370 to my door (i want a new motor):
specs:
http://www.marathonelectric.com/MMPS...em=182TTDR8067
As for the pulleys, from the bottom to the top:
Yellow: 3:1 ratio 1.5" and 4.5" these will sit in the gear box cavity.
Orange: 1:1 to "link" the upper pulley to the bottom
Green/Blue/Pink are for selecting the speeds, the motor will swivel to loosen tension.
Green are clog and will only be used for tapping and real low speeds (thats the max tooth counts i could find for clogs on McMaster (with out going $$$$$)).
Except for the green clog belts, the rest will be (as of now) "Ultra-Flexible J-Section V-Belts" McMaster
http://www.mcmaster.com/#9003k72/=wq3ohq
The Yellow and Orange belts will be .92 wide
Blue and Pink .562 wide
There is clearance under the motors pulley to remove the v-belt to replace with clog when needed.
Dont know if the clog belt itself will create any kind of "surface finish" problem, but being it will be used for slow cutting, like tapping, pretty sure i dont care (will it, should i ?).
The top plate is 1.75 thick (as of now) so i do plan on adding a set of 1" (or 1.75 if there is space) thick blocks on the bottom so there will be two bearings per-pulley spindle.
As you will see, the base mounting plate has been extended off the front of the machine and the mills spindle is driven by the 3:1 pulley below the plate.
Also have to come up with a way to adjust the Yellow and Orange pulleys tension.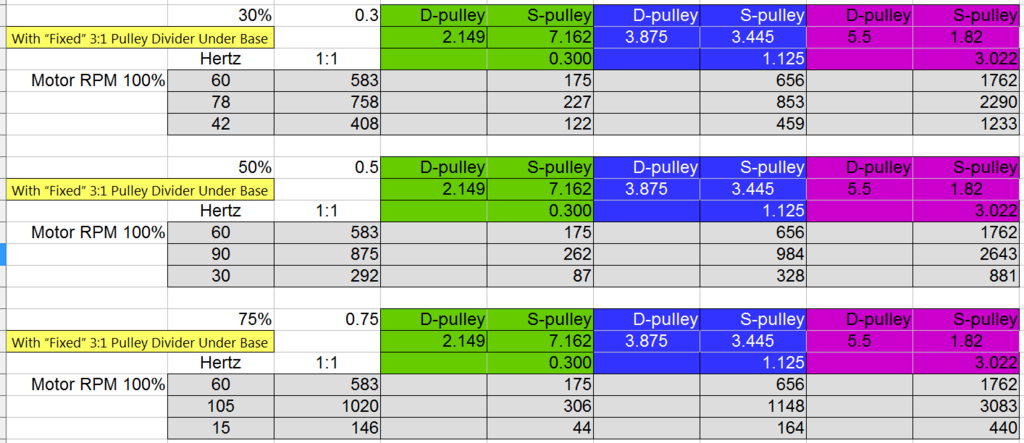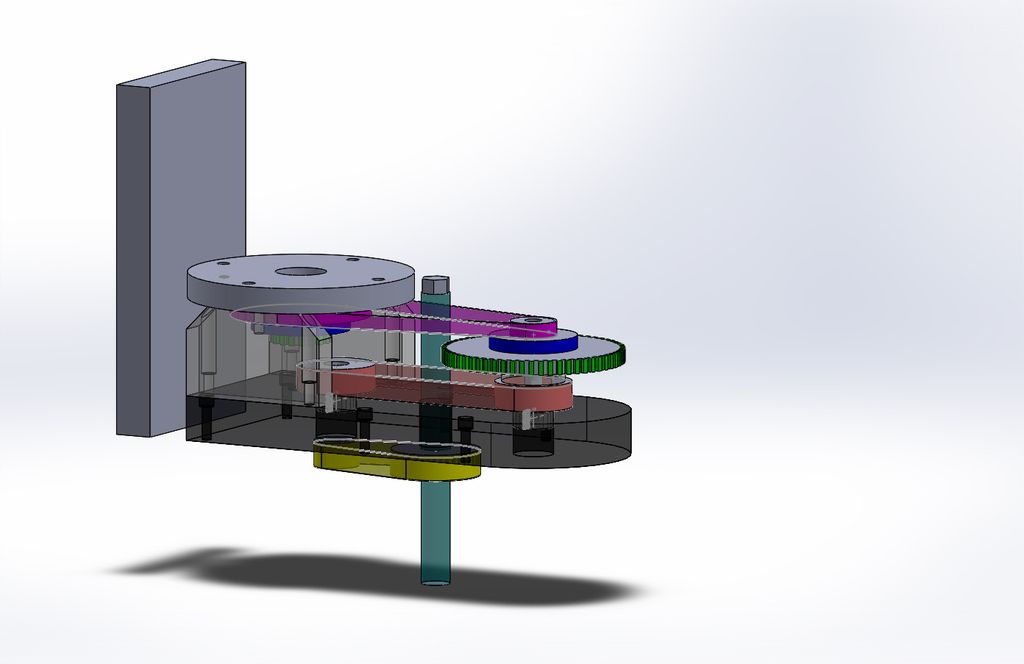 Would love to hear what you are thinking....
_