Now anyone of a delicate disposition, that's anyone who feels the Teletubbies are violent do not read the following.
Over the last few days I have been doing shop maintenance on machines etc as it's one of the few times per year I can catch up.
Silly things like making sure all the nuts and bolts on the mill share the same 3/4" A/F spanner instead of hunting different tools out.
Same for the lathe chucks which in my case are 'A' series that bolt on. I much prefer these to camlocks as they cannot come loose on heavy interrupted cuts like laser cut plates. 8 different chucks means 32 nuts and over the time having been sourced from different suppliers has again finished up with different spanner sizes.
Anyway today I started to address the tailstock problem on the TOS lathe. It's my belief that only the British can design a decent tailstock. The Chinese / Taiwanese don't stand a cat in hells chance and TOS / Eastern European are only second place behind them. The only thing TOS have going for them is, if a 10 lb casting will do, they have to use 25 lbs.
So the problems.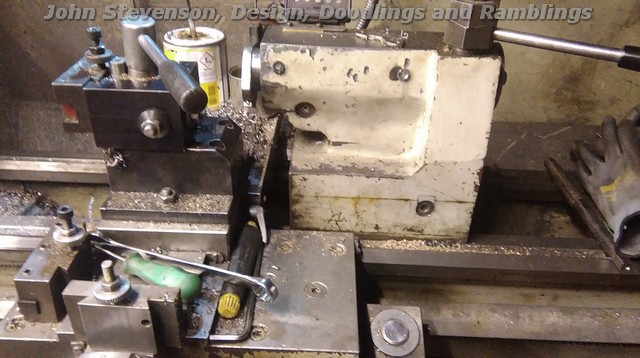 Three things wrong with it.
[1] Usual ejects the taper before getting back to zero which is just sorting the screw out.
[2] Locking for the tailstock. From new this was just a long threaded rod into the bottom clamp and a nut and washer on the top which means using / finding a spanner every time and it wasn't as easy as fitting a simple handle as it needs about two full turns to clamp up because of the clamp design.
The system shown was one I did many years ago and the idea pinched off Honda as that is how they operate the clutch on the C50 / C90 step thru's although they use ball bearings in between. It gives the facility to lift the rod a long way with a short travel.
It's worked well for years but never been pleased with it's looks and it will be in the way when I continue to modify this tailstock and fit a lever and screw feed.
[3] Biggest drawback is just that. This thing is massive and the base is over long with the problem you start off with the barrel half way out to reach the work, not made any better since fitting a cross slide DRO.
Now this is where it gets messy. Measured up and Deb's Bantam has a 6 1/2" long tailstock, my Chinese lathe which is bigger than the TOS also has a 6 1/2" long tailstock. If this one is cut off to make it flat fronted and get rid of the overhang it would still be 7" long. Stripped down, no spindle, clamps etc, just a bare casting this puppy weights 33Kg !!
So stick it on the power saw and cut from both sides because of the blade angle and then onto the mill to clean up.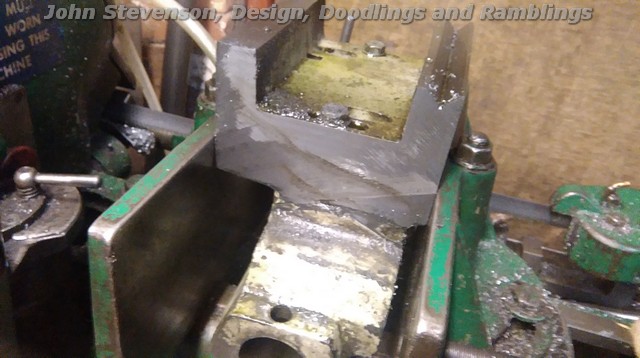 However the cut was so good and it's only a casting I just cleaned it up with the angle grinder and a flap wheel. It will need a repaint anyway.
Offer it back up and jobs a good un.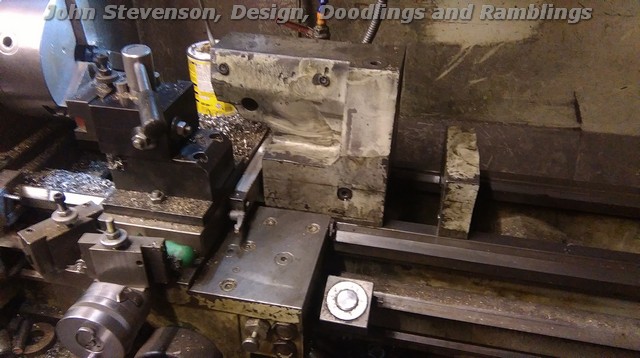 Gained an extra 48mm of space and a nice lump of cast iron to boot.
Next up is problem [2], so stick it on the mill by it's nose and clamp down.
Accurately mark out where the hole for the clamp stud is and start drilling and boring out.