As are just about all Maximat V10-p parts these have become quite expensive on ebay. But there is a fairly cheap solution. I have found that Little Machine Shop's Follow rest for C-6 type lathes ($57.95) is the correct height for the maximat. The holes are in the wrong place, but who cares, you can drill some other ones. I ended up hacking it off here and there with the portable bandsaw, then put it up on the milling machine to face off the top of the base and finish up the surfaces here and there. Yeah I know: the far side cap screw will will crack the base right in half if you reef down on it, but this is just to thread some rod here and there and do some other light tasks. I suspect I'll turn a spacer so that's no longer an issue.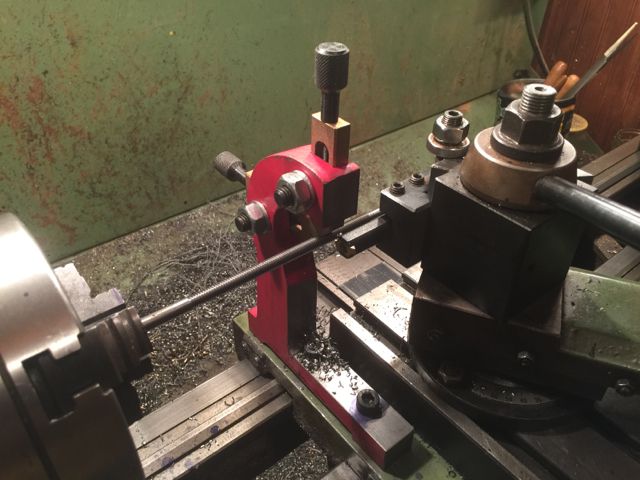 The threaded rod is an adjustment screw for the Metal Lathe Accessories steady rest casting kit that I'm building also for the Maximat. That - when finished - will allow me to make a start on George Thomas's Universal Pillar Tool which I need for the drill press aspect....You guys ever get three deep on projects too?
No relationship other than customer to the firms I have mentioned. Your results may vary. Be careful when you modify stuff.