The other day I was working on my balancing hub for my surface grinder. I have a 4" round, I turned one end to make sure it was round because you all know that these rounds aren't really round. So after I did that I chucked it up gently tightened the chuck as I wiggled the round to feel when all the jaws are contacting it and then snugged it down.
I turned the OD to exactly 3.75 and then proceeded to carving out the groove for the weights. The groove is .313 deep by .438 wide.
It's a real PIA to cut a groove like that as I had to pick away at it with a .062 wide grooving bit a little at a time. When I was close to finished dimension I went in and cleaned up the sides and bottom with a carbide tipped square tool bit that was a little under .250 wide.
You have to be careful when bottoming out with the square tool bit as it'll chatter like hell. I avoided all that.... learned from past experience.
Anyway............ After I did that and proceeded to cut the inside hole out I noticed what I thought was the OD running slightly out of round.
I didn't pay much attention to it as I thought my eyes were playing tricks on me. I left it chucked up with intentions of finishing it up this morning. I decided to check the OD for run out because it bothered me. To my surprise the OD was out of round by almost .010.
I had to trim .005 off the OD to get it back to round. after that I checked it, I had about .0002 run out which is consistently normal for anything I turn on my lathe. My first thought was after carving out the groove the OD had moved because of stress being relieved from cutting the groove, nothing got hot.
I then went ahead and cut the center out. When I finished that I checked the OD again and found it to be out about .002.
Is the round moving in the chuck????? I know it's hanging out about 5" but it's a 4" dia. round. The chuck it still tight,
If I push on the round when indicating it I only get about .001 deflection, and I know my bearings are good.
What could have caused this??? Never had it happen before.
JL..............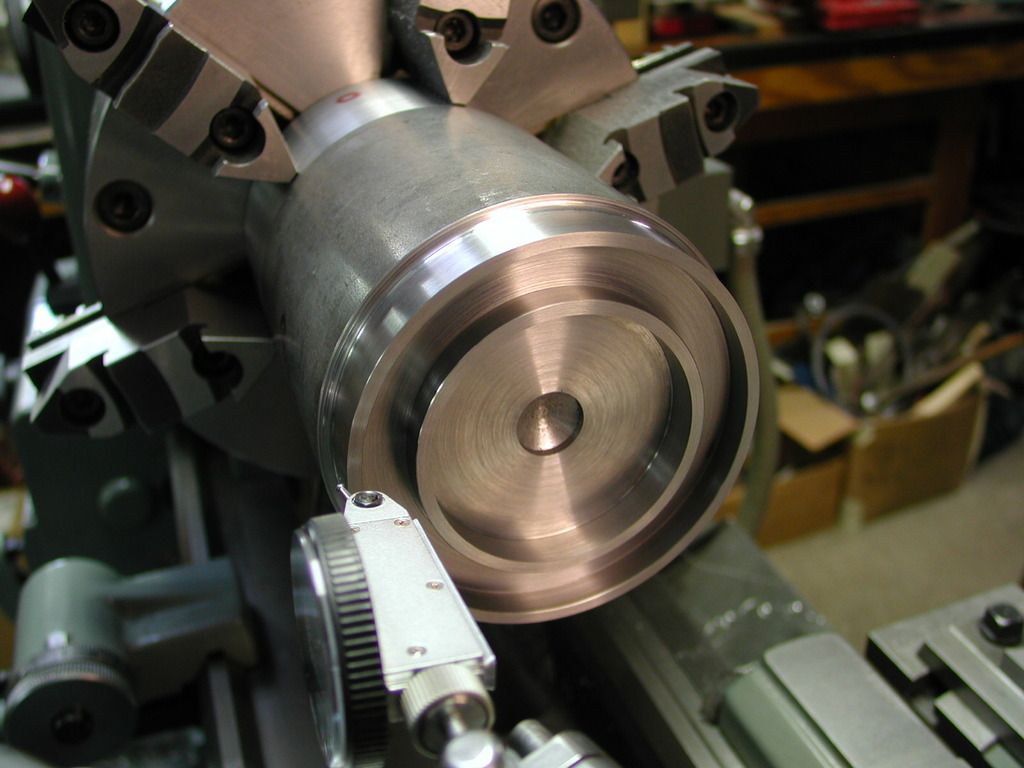 This is the 3" OD one I made for the T&C grinder, I didn't have any problems with this one and this was a 3 1/4" dia. and it was hanging out a further than the 4" round.