I'm refurbishing another old drill press just for fun and because the Taiwan DPs from the '70s and '80s were so much better than the stuff I see sold today. The one I'm doing now is a benchtop, but it has the familiar import drill press design features. Key among those is the rack and pinion table height adjust mechanism. The one on this press (a Jet 13R) appears to be slightly differently designed than what I think of as the standard design.
Here's a picture taken from a recent rebuild of a Foremost 20" machine: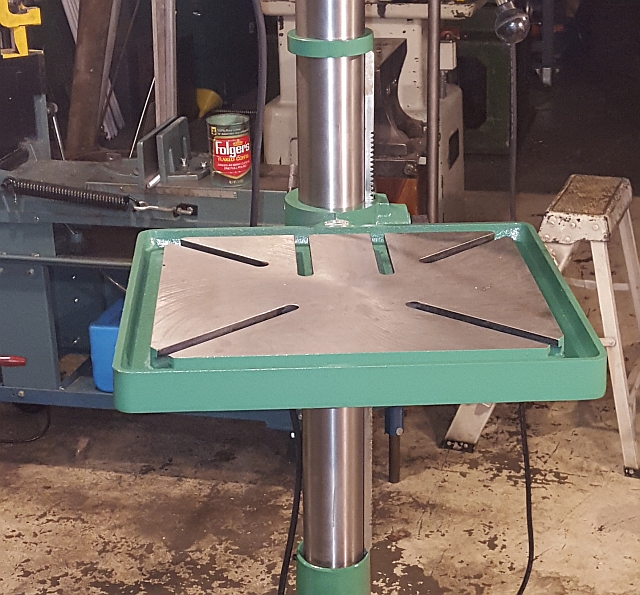 If you look closely at the rack, you can see that it is beveled at the top and bottom. The very top surface of the casting which bolts to the machine base is machined with a matching bevel, as is a top ring. The whole rack is free to rotate around the column along with the table. The rack is prevented from moving in the vertical direction by the beveled castings. Also, the top ring is adjusted so there is a close fit which keeps the rack from canting off from the vertical.
So the little Jet bench unit I am working on is similar. The base casting is beveled, as is the bottom of the rack. However, when I got the machine there was no top ring. Looking closely at the markings on the column, I suspect there never was one. The top of the rack is not beveled - it has a step machined into it. This step does not mate with any part that I have. Yet, the thing still works. The rack stays vertical, the table goes easily up and down, and the rack never pulls very far away from the column at the top. Here is a picture:
(Note, I haven't cleaned the rack yet!)
The head of the benchtop drill press sits right down by the top of the rack. If you look at the marks on the column, you can see the column where it was covered by the head casting. I can't see any sign of a top ring ever being installed there.
So now I need to decide whether to make a top ring or not. I can't find a picture of another one without this ring (which some manufacturers call a 'rack collar').
What do you think the function of that top ring (collar) is? Should I shorten my rack a little and make a ring?
metalmagpie