Quite a few years ago I bought a new Poulan Pro PP4218AVX chainsaw, with two chains, for probably not much more than $100. I also had a Homelite saw that I was able to get running long enough to do what I needed, and I also have an electric chainsaw that was fine for work close to the house, so I never even put fuel in the new saw until last year around this time, when I had to clean up some deadfalls up on the hill behind my house. I bought some pre-mixed 40:1 fuel and after following the starting instructions, it started pretty well and ran well once it was warmed up. I used it for an hour or so without problems:
Later on, around the time I fixed the rusted seat belt anchor in my truck, I used it again for an hour or so to cut up some long-dead logs on a neighbor's property. Again, it worked OK. But it seemed to be harder to start than my previous saws when they were running properly. I went to use it again a while later, and it seemed to be even harder to start, and it seemed to bog down when trying to rev it up to speed. I think I left the fuel in it over the winter and finally around May I dumped most of the fuel and ran it dry, and stored it again over the summer.
A couple days ago, I decided to tackle the deadfalls again. I added "fresh" fuel from one of the almost empty cans and another one that was full. It looked and smelled good. After a few tries, it finally started, and idled OK. It seemed to bog down but I had not let it warm up, so I went up the hill and got ready to do some cutting. Again, it was hard to start, seeming to require far more than the recommended 6 pushes of the primer bulb, but finally it ran. However, even after a few minutes warm-up, it still bogged down when trying to rev it up to full speed and it would not cut. I figured it was time to check a bit more thoroughly, and figured perhaps the air filter was dirty.
I popped the cover and the air filter was still pure white and clean. I saw two access holes for the carburetor H and L adjustment, but they have external splines and no way to use a screwdriver to adjust. So I did some googling and found this video: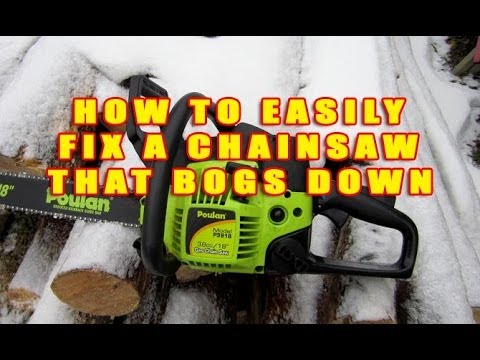 It was for a very similar Poulan chainsaw with the same problem of bogging down. And he said it was a common problem, even after only a few hours use, and the solution was a simple carburetor adjustment for a richer mixture. I was able to make an adjustment tool using a piece of 1/4" copper tubing, and I was able to make some adjustments, but it was hard to tell if I was actually turning the screws with the cover on. Finally I pulled the cover off and used a flashlight and magnifier to make sure I adjusted both screws tight, and then back about two turns as recommended. After a couple more tries, it started and ran, and by adjusting the high screw out about 3-1/2 turns, it seemed to rev up to full speed nicely, and I was able to cut a couple of small logs before quitting for the evening.
Yesterday, I was all confident and happy to be able to use my chainsaw to get back to the job at hand. So I expected it to start right up and I could get to work. But, no such luck. After several dozen attempts, still no joy. I gave it a break and tried again. Still nothing, just an occasional cough. I tightened the screws back to where it seemed to work the day before, and after a few pulls it ran and idled. But then it died, ne'er again to run.
I pulled the plug (which was extremely tight), and it had something of a black oily finish. I cleaned it a bit and tried again, but still no go. This is getting very frustrating, and I'm tempted to just go out and get a "quality" saw, like a Stihl or Husquevarna, but it seems there is no reason this saw should not be able to run and meet my relatively minimal needs.
I found some older threads on chainsaws, including one from Brian in 2009 where he had bought a similar saw and got a refund after threatening bodily harm to the store employees. I may dig deeper into my saw's innards and report on progress, or perhaps get something else. But I am a firm believer in proper troubleshooting, repair, and even modifications if something is not truly a lost cause. Any ideas? Thanks!