Iv tried this along time ago - did not pan out but want to ask again.
have a new crank proto-type im testing on my bike dyno, crossed this bridge along time ago and settled on a solution that was acceptable as I tried the electronics alternative with no good results,,,
the goal is to stabilize the dyno voltage spikes that it goes through due to the pedaling forces being pulsating in bi-mechanical nature....
this is esp. important because all I have is a digi-meter and need to be able to read the last few digits with accuracy instead of them jumping all around - have tried the capacitor approach complete with diode and resistor combo's to just direct a "sample" of the voltage and filter it and then get a reading -- mixed success but generally not good enough, so I did what a mechanic would do - I built more of an electro-mechanical device and it actually worked very well, well enough to record down to 1/10th of a volt with stability...
Don't laugh but here's the unit below,,, this coupled with a heart rate monitor and my cadence meter and I have a pretty good dynamometer, it's just two perm mag tape deck motors and one is the motor and the other is the generator that's sole purpose is to power the volt meter,,, ends up being just a fraction of actual voltage but no worries as it does provide a stable guide - the real dyno gens power a ford taurus rad. fan that keeps me cool while testing - ambient air temp and all kinds of other factors are figured in...
Note the glued in heavy washer installed into the little gauge generator pulley for more stability...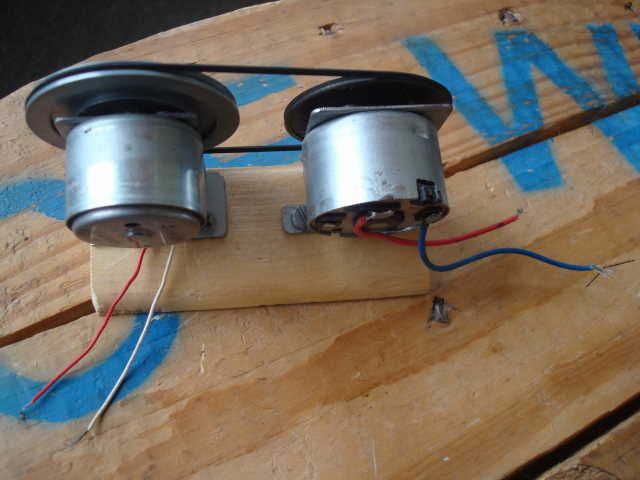 Thing is - is this unit just shot craps --- I think it's been too much of a labor load for the motor, it got warm and I believe I either fuqued the brushes or the windings are shorting because my voltage is way low and not as stable...
here's the main dyno itself...
Your mission - should you choose to accept - is to help me design a Cap system that will work because iv gutted out my last tape deck player and do not have any little 12 volt motors around,,, but what I do have is a couple old computers with the 110 to 12 volt power boxes,,, can something be done with them?
can I kinda isolate a Cap with a diode or two and then use a resistor to feed it and get the reading off of it?
How can I build a virtual mechanical "flywheel" in the electronics world, as you can tell not may area of expertise... thanks