Well as stated I did do some testing that day and said I was going to share the specs, the meter is TOTALLY stabilized and works perfectly - as you can see in the chart some of the volt readings are actually in the 100ths scale, never been able to do that before - was having to guess at the tenths...
anyways, the results are inconclusive but there's some signs of promise also,
as stated cadence was the constant and the heart rate and voltage readings were the ones to decipher energy produced for work exchanged,,,
Ex means experimental and S means stock...
- I was actually a little discouraged with the initial first four tests as they don't look that in favor and in fact look like they maybe eating it pretty good in at least one category, but I do try and keep in mind of all the parasitic drag that's going on with the ex. and none with the stock, so even breaking even is not all that bad of a result - although most mechanisms are either ball or roller bearing there still is some room to either simplify in certain area's or get rid of a few plain bearing situation that I still have,
what's got me a little pumped up on the whole thing is after expending all the energy for 4 tests and feeling a little spent I then proceeded to do one last test with the ex. - I threw it in the highest gear I had which means if I held the same sprint cadence numbers of 55 I would absolutely see the highest results in the voltage range - that's a given --- but along with that I also expected heart rate to be off the charts - and to my surprise it was way lower than even the closest voltage #'s in comparison...
it's a little exciting,,, but been down this road before - I don't get too enthused until it's proven to be consistent with a multitude of tests, and even then - my old prototype was also good way down in the lower cadence range, but I was hoping these units would have the spin mode covered too - and that is certainly not looking to be the case right off, might end up having to go back to the drawing board regardless...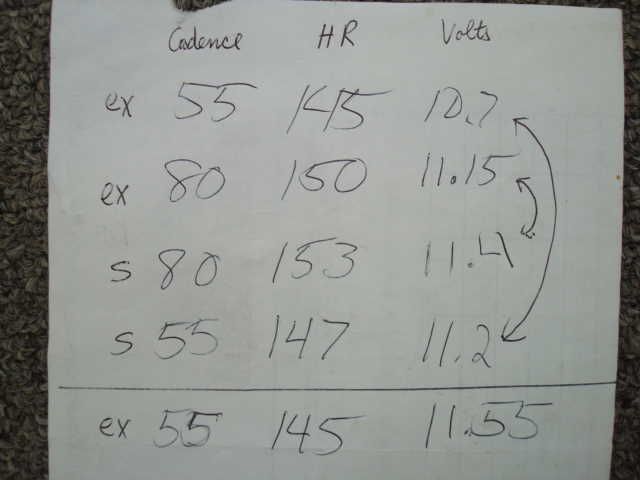 Lit-O bit-O eye candy for some of the other mechanical engineers out there - but just a little peep
, please do not ask for more pics or any explanations thank you.