Needed to trim down the outside of the gear case. I do not have a rotary table, (yes I need one) but I DO have a funky degree-marked turntable that I picked up long ago. It spins free, but can be locked for drilling or other dividing tasks.
So, I indicated the case in on that turntable, going by the bore for the gear, and clamped it down with 4 clamps on the inside.
Then I put the thing on the mill table, and proceeded to cut grooves in the corner area that was to be removed, to the proper depth of the outline I needed, leaving it a tad oversize for finishing. I used a small 3/16" end mill to help ensure that I was stronger than the machine.
First I cut grooves spaced a bit under 3/16" apart.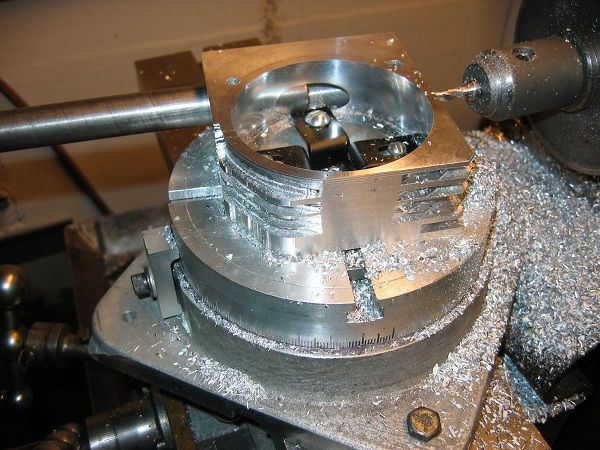 When they were cut to depth, I went back and cut out the remaining fins between slots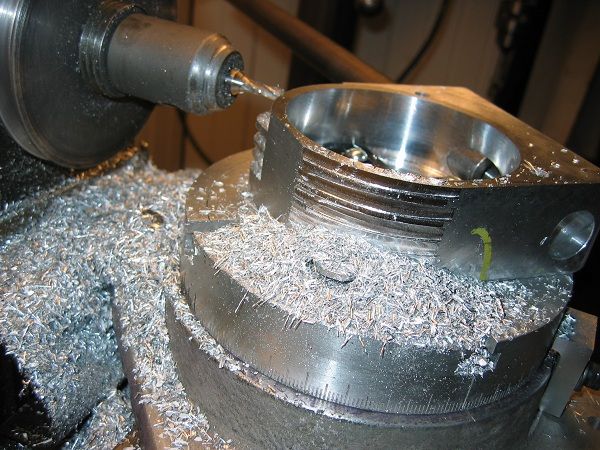 At first, I tried just cutting progressively down, but found that to be hard to control. The cuts were much better when cutting a full slot, or at least a balanced cut removing a "fin".
I used the end mill in horizontal mode for two reasons. First, I thought it would be less apt to get "run away with" if the end mill is cutting that way. Not sure that really is true. Second, I only have a few end mills that would reach and cut that much vertically (about 1.4 inches), and I prefer not to use them unless I need to.
The last strip at the bottom I just cut off in the bandsaw. Cutting the whole depth with the saw was too slow, but after milling away the rest, it went fast enough.
Yes, this is a bit "cave man", but not having a rotary table I do what I can. I just have not decided what size table to get, and likely will not until I get the Benchmaster going and see what usable space I end up with on that table. I really don't need to fit a rotary table on the Lewis, which I plan to leave in horizontal mode.