I've been meaning to do this one for awhile. Last night I took 30 minutes (and spent more time editing the video
) and made an inexpensive chip separator (cyclone - although I'm not sure how much cycloning action is going on in this one) to go in front of my vacuum.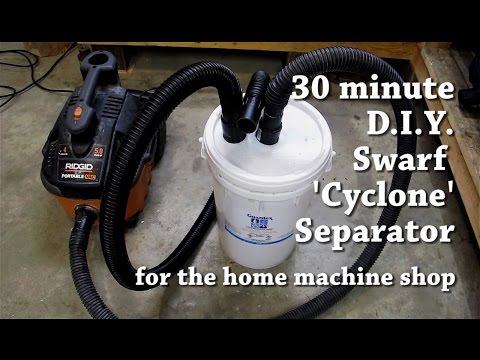 https://youtu.be/vvVokh3UNVM
The music isn't nearly as 'annoying' as the last one
, but I haven't had a chance to incorporate any baroque music yet. Maybe the next one.
It cost me about $10 for the fittings as I had the pail and abs pipe laying around. I purchased another vacuum hose - but I probably would have done that anyway if I purchased a dust deputy or something.
I'm not sure how well it would work for fine dust / sawdust, but for metal chips it works great. The video is pretty self explanatory if you want to do it yourself so I figured a drawing was a waste of time
.