A friend of mine owns this:
Pebble beach concourse quality, but unfortunately it was missing the accelerator linkage part. It has to integrate both the steering wheel manual accelerator and the foot pedal. He borrowed one from another car and had the brass arm part cast. Pretty rough, but good enough. I had to machine that part, add the tip roller, make the cast iron base and pins. Assembly of the tip roller and the locking of the brass to the pivot shaft had to be done in the original fashion - solid pins and beat the pin ends until they mushroomed! No easy disassembly.
I lost all the early photos of machining the arm... but needless to say it was a PITA to figure out what to hold and get everything in plane. In the end I machined the hub flange (eyeballed the axis), grabbed that in soft-jaws and drill/milled away. Sketchy, but it's only soft brass so low forces involved.
The cast flange threw me some curve balls. At first I tried to fake it and just measure/make manually. Problem was that nothing was "quite right" and every error magnified somewhere else. Not surprising considering it was probably a wooden mold pressed into sand, hand-ground for cleanup and manually drilled. So... I flopped it on my scanner, used that as a background image in my cad and overlayed what was most likely the original design with measurements on 1/16ths. Hey... it worked!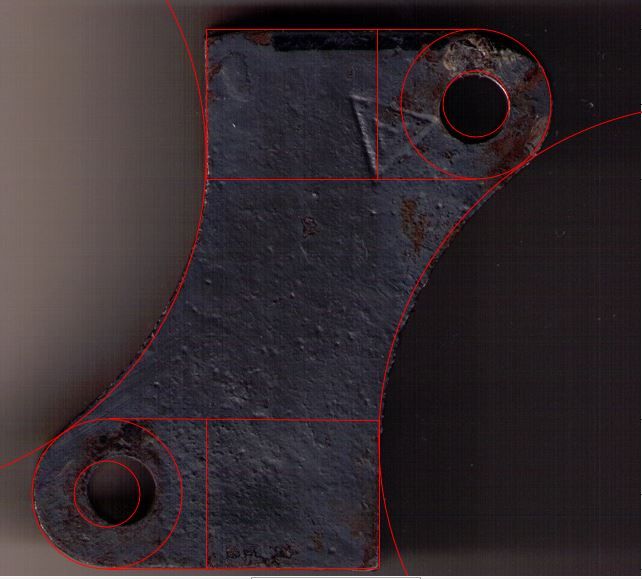 Note the bottom left hole position. It's just plain wrong. I talked to the owner and he agreed there is no point in copying the sample errors so I corrected it to what I thought was the original intent. Then I made adjustments as necessary to allow for the casing tapers etc. Result (over-dimensioned with excessive accuracy, but I like it that way for CNC entry and checking):
I could have exported it as a dxf to my CNC BP but it was easier to just type in the few coordinates and let the Conversational mode Geometry Calc figure the arc and other intersections.
Getting started :