I stumbled across a big haul of brand new 1 inch shank tooling. I have a Dorian CXA tool post, but it's limited to 3/4, has trouble on some tooling getting high enough to meet center and I don't like milling down the shanks, so.... I decided to get a CA tool post and an ever growing selection of CA holders. Hey, I can run a 1-1/2 inch boring bar if I like. lol
So... found a great deal on brand new Dorian CA tool post. Collected a few Aloris CA tool holders, machined the compound "nut" and... rats.. Aloris holders don't quite fit Dorian anymore. Dorian has a nice resettable handle feature, but that increases the size of the top flange and the adjuster nut fouls.
Hmmmm.. Quick check shows the OEM part (you have to buy the "elevator" assembly) to be made of gold and nothing that fits from Mcmaster etc. It's only 3pm.. I'll make some. 1.125 diameter, .3125 thick, 1/2-20 thread, chamfered edges.
I have an old bump Kurling tool with well-used wheels and a POS import "scissor style" that is... well... a real pos. I'll use the bump tool "once more" until I can save up for an Aloris CA19. The import scissor can go in the trash.
Stock.. Hmmm... Stainless would be good. 303 should work. Na.. barely made a dent; not with my knurler. Found some 1144 and got to work.
First, knurl the entire work length. 120 rpm, slow feed, 50 thou in-feed from contact.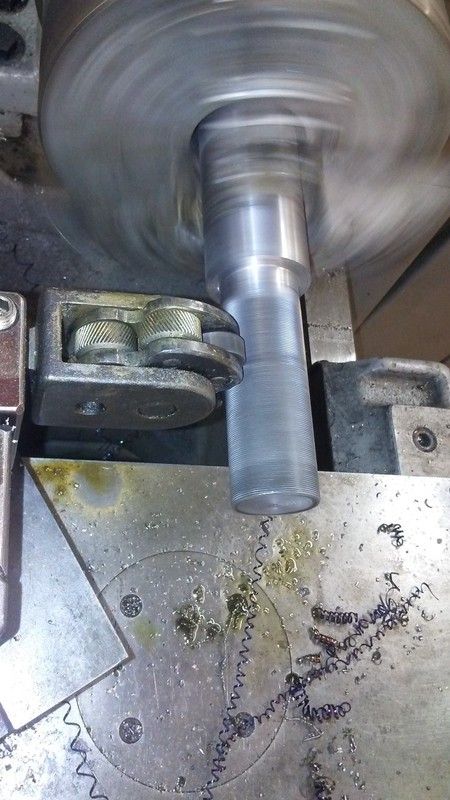 Nice (crappy cell phone pic) .. maybe I'll keep the old tool a bit longer! No.. I didn't do all the math - just turned and knurled - it worked out.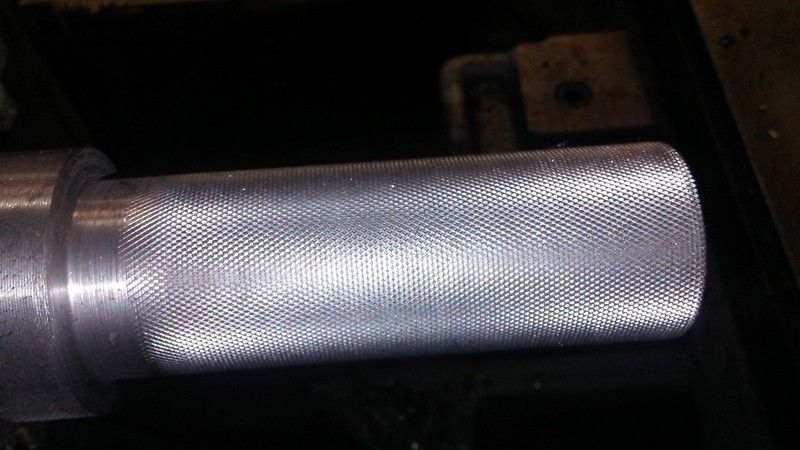 Partially parted... ass backwards but I figured this would make it easier to chamfer all the edges. It did, and I found a use for one of those cheap triangle tools - both sides at once and the same measurement.